Philippe Starck Masterminds Bali Hotel for 2014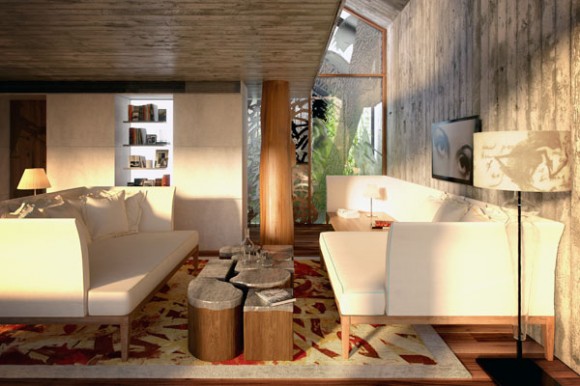 A rendering of the planned living area for one of the Starck-designed villas at The Stairs Villa Hotel in Bali.






Come 2014, a 65-foot-wide staircase ascending from a bustling Balinese street will usher guests into a luxe hotel designed by French mastermind

Philippe Starck

. Located in the Seminyak resort area on the southwest coast of Bali,

The Stairs Villa Hotel

will boast a dozen secluded villas outfitted in an array of Starck-designed furnishings.





"Inside the villas you'll thrive in a new experience…with the feel of an expansive individual space where you'll be glad to welcome friends," says Nicolas Panzani, president director of DeCiazini Group, the hotel's French developer.





A rendering of the pool terrace.






Guests will enter via a 333-square-foot area housing the hotel's lobby, restaurants, spa and other public facilities, before proceeding to the freestanding villas tucked behind the entrance building.





In essence smaller versions of the lobby building, the two-story, sloped-roofed villas are accessible only through the hotel's main entrance. Embellishing the entrance building's glass façade are graffitilike designs by American artist

Jon One Perello

, who is also crafting similar panels for the villas.





A rendering of a dining-living area.






Starck is designing the furnishings, including a long console sofa and laddered lounge chair, from made both natural and industrial materials like hammered steel, teak, and silk. Each villa's ground floor, measuring 1,803 square feet, will contain a living room, dining area, terrace and pool, while the upper level will feature a lofted bedroom area.





Landscaping will be minimalist in keeping with the goal of creating a more urban ambiance. There will be bamboo native to the island, as well as various climbing plants.





A rendering of a lofted bedroom.