Photographer Suzette Bross Brings 'Foot Selfies' to NYC



Suzette Bross, Walk 061513 Errands.



For the first time ever, Chicago-based photographer

Suzette Bross

is having a solo exhibition in New York City. The exhibition, which is on display through December 11 at the

Jack Geary Contemporary

in the city's Hudson Square neighborhood, features a collection of images Bross shot using her iPhone camera while walking. Each individual work is comprised of 100 smaller photos chronicling her jaunts through Chicago and elsewhere in her travels.

Bross began taking "foot selfies" several years ago, not thinking that the images would eventually become their own a series. But as she recorded her strolls though snowstorms, soccer fields, and dozens of other places, she became drawn to the different surfaces she was traveling on.

"I love the performative aspect of the images and the texture of different places," she says. "In some of the images, you don't necessarily know that they're feet right away."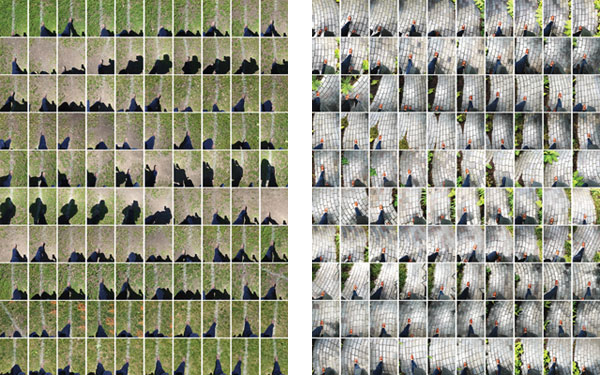 From left: Soccer and Isabella.



Bross decided to only use her smartphone to capture her walks, since it's an item she uses daily and she wanted to use a camera similar to the one that most people own. Also, what better way to capture a selfie than using a camera phone? Using the phone's metadata, which records location and time for each image, she titled each photo using that information. Bross says that, on average, it takes her about two minutes to walk the 100 steps needed for each piece.

"I like being able to get a sense of looking at the every day and seeing things that are fascinating," she says. "I didn't think that gum on the sidewalk would be cool. My photos record things that everybody looks at on their own walks."

Bross' work is in the permanent collections of The Art Institute of Chicago, The National Gallery of Art in Washington, D.C., and more. Works on display during the exhibition are available for purchase.

Jack Geary Contemporary is located at 185 Varick St. in New York City.



Suzette Bross, Walk 020514 Astor Street.