Positivity Products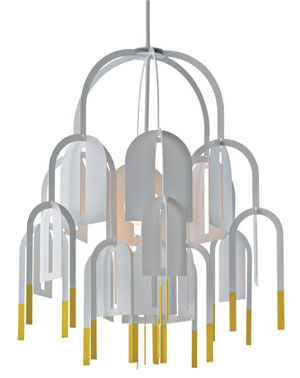 Arturo Alvarez

"Matali Crasset's Rhizome  chandelier is?beyond  fantastic- architectural but whimsical, too."  -Ghislaine Viñas of Ghislaine Viñas Interior Design; Arturo Alvarez, 34-98-181-46-00;

arturo-alvarez.com

.


Fuse Lighting


"The Boa pendant, with chain mail around the light source, is sexy and high-style." -Sheldon­ Harte of Harte Brownlee & Associates­  circle 400; Fuse Lighting, 310-652-2411;

fuselighting.com

.



Opinion Ciatti


"Bruno Rainaldi's quirky Tab.U stool in hand-crinkled aluminum turns out to be the conversation piece in?any room." -Christina Hart of  BBG-BBGM; Opinion Ciatti, 39-055-887091;

opinionciatti.com

.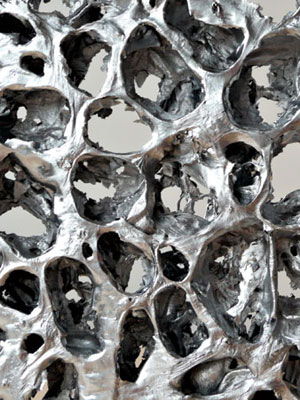 Cymat Technologies


"Alusion large-cell aluminum foam is as appetizing as a chunk of good Swiss cheese." — Bill Bouchey of M Moser Associates; Cymat Technologies, 905-696-9900;

cymat.com

.


Designtex


"Playful Coverage upholstery fabric adds a pop of color and texture." -Brent Zeigler of Dyer Brown Architects; Designtex, 800-221-1540;

designtex.com

.


FilzFelt


"It's hard not to smile when you discover brightly colored panels of thick, wooly felt-with an endless list of possible uses." -Michael Lauren Hunt of RSP Architects; FilzFelt, 617-391-6230;

filzfelt.com

.



Interior Provisions


"My side table is made of steel, so it lasts forever, and it folds-what more could a city dweller ask for?" -Teri Brajewski of TWB Design; Interior Provisions, 866-491-1233;

interiorprovisions.com

.


Alessi


"My Tea Matter caddy and strainer set combines the elegance of yesterday's oriental and European elites with the enjoyment  of today's lifestyle." -Alan Chan of the Alan Chan Design Company; Alessi, 212-941-7300;

alessi.com

.


Architectural Systems


"We're lining a private 12-car garage in Toyko with Lamellux resin-and-wood panels laser-cut in custom patterns." -Geoffrey Bradfield; Architectural Systems, 800-793-0224;

archsystems.com

.


Shanghai Donghai Stainless Steel Goods Co.


"The steel back of my Zuo chair can flip over to become a tabletop."

-Valerio Maria Cinzia Ferrari­ of VMCF Atelier ; Shanghai Donghai Stainless Steel Goods Co., 86-21-6615-8362;

donghai-bxg.com

.


Sarah Cihat


"Thoughtful edginess makes Rehabilitated Dishware repurposed ceramics even more beautiful." -Cheryl Terrace­ of Vital Design; Sarah Cihat,

sarahcihat.com

.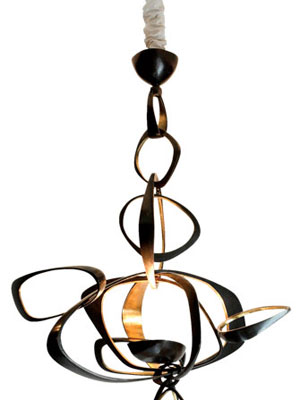 Ralph Pucci International


"Hervé Van der Straeten's Volubile chandelier, made according to traditional hand-wrought bronze techniques, is bold, elegant, and original." -Scott Salvator; Ralph Pucci International, 212-633-0452;

ralphpucci.net

.


Blackcreek Mercantile & Trading Co.


"The most amazing  objects­ in turned wood  are by Joshua Vogel-the scale and proportions are fantastic, even sublime." -Brad Ford of Brad Ford; Blackcreek Mercantile & Trading Co., 917-797-1903;

blackcreekmt.com

.



Eskayel


"We've long been fans of Shanan Campanaro's wallpaper and fabric, and her new rugs, such as Culebra Cubic, have captivated us all." -Bella Mancini of Bella Mancini Design; Eskayel, 858-531-9034;

eskayel.com

.

Caesarstone


"I'm a fan of quartz solid-surfacing when clients want the look of stone without the worry of maintenance." -Fran Smith of Nelson; Caesarstone, 877-978-2789;

caesarstoneusa.com

.


Oso Industries


"My Concrete Wine Wall is a versatile piece, both as storage and as a major lighting element." -Fiyel Levent; Oso Industries, 646-373-6655;

osoindustries.com

.


Livinglass


"Sitting under this custom glass canopy of falling petals makes us feel like we're in a fairy tale." -Erin Miller of Tsoi/Kobus & Associate; Livinglass, 949-369-1139;

livinglass.com

.



JANUS et Cie


"Placed around a walnut dining table, Forest side chairs in powder-coated aluminum are totally unexpected and fun." -Laurel Feldman of Laurel Feldman Interiors; Janus et Cie, 800-345-2687;

janusetcie.com

.



Création Baumann


"The Eluis blanket takes typical flat bedding and gives it a sculptural quality." -Hans Galutera of BG Studio International; Création Baumann, 212-906-0106;

creationbaumann.com

.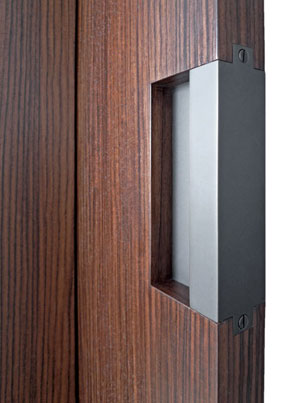 FTF Design Studio


"For a flush fusion between the door and the pull, D Min is especially beautiful." -West Chin of West Chin Architect; FTF Design Studio, 212-925-0847;

ftfdesignstudio.com

.


Litwork


"Glowing fiber optics penetrate the wood of Luminoso panels, giving a touch of the unexpected to an otherwise typical material."  -Eric Lukenich of LB Architects; Litwork, 43-5576-20852;

luminoso.at

.



Studio Dunn


"The Coventry stool offers pure design with flexibility and affordability." -Elisabeth Rogoff of?Champalimaud; Studio Dunn,  401-316-2872;

studiodunn.com

.


Carnegie


"Xorel embroidered wall coverings and upholstery fabrics make us happy, because we know they will perform for our health-care clients." -Trish Adelman of Eckenhoff Saunders ; Carnegie, 800-727-6770;

carnegiefabrics.com

.



Jakob Schlaepfer


"With every squeeze and stretch, Meta metallic fabric changes form to create eye-catching interactive sculptures." -Edin Rudic of MKDA; Jakob Schlaepfer, 212-221-2323;

jakobschlaepfer.com

.


Nemo Tile Company


"Large-format Trend porcelain tiles transform mundane interiors into contemporary, clean, slightly edgy spaces." -Eric Gartner of SPG Architects; Nemo Tile Company, 212-505-0009;

nemotile.com

.


Planet 3 Studios Architecture


"The Wavelet ceiling fixture added the necessary glamour to a clean, uncluttered corporate office in Mumbai."  -Kalhan Mattoo of Planet 3 Studios Architectur; Planet 3 Studios Architecture, 91-22-6782-5700;

planet3studios.com

.


Tre-Più


"We're obsessed with folding and sliding door systems that allow a space to be multifunctional yet interesting and chic." -Purvi Padia of Purvi Padia Design; Tre-Più, through Nova Distribution International,212-444-9946;


trepiu-usa.com

.


PolArt


"The 4633-A sofa is a great

example of a traditional furniture silhouette reinterpreted in a

striking color and material." -Graham Downes of Graham; PolArt, 956-765-2760;

polart.com.mx

.


Fabbian Illuminazione


"Made of extra-clear glass, the Sospesa pendant fixture fits nicely under ductwork without diminishing the wonderful luminosity." -Jane Smith of Spacesmith; Fabbian Illuminazione, 973-882-3824;

fabbian.com

.