Publicolor Raises $1 Million at Stir, Splatter + Roll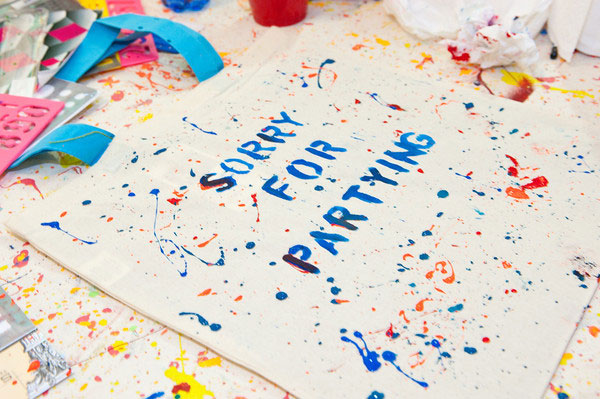 Painted tote bags at Stir, Splatter + Roll for Publicolor. Photo by Greg Partanio/Manhattan Society.
The subdued, fluorescent-lit gymnasium of Martin Luther King, Jr. High School in New York was awash with color on Tuesday night for Publicolor's annual benefit, Stir, Splatter + Roll . Banners hanging in the space, decorative paint cans, splattered tablecloths, and the guests' outfits all popped in a multi-hued jumble. This is the 18th year that Publicolor has hosted benefits to raise funds for its multiple programs, and the evening raised an impressive $1 million.
Founded in 1996 by Ruth Lande Shuman, Publicolor strives to counter inner-city public schools' alarming dropout rate by engaging under-privileged, disconnected students with design-based initiatives and academic support. Notably, the nonprofit's efforts surpass high school and continue to offer support, financial and emotional, through students' college years. The organization has attracted an astounding wait list of 40 schools wanting to participate, and with good reason. Of the 1,200 students who took part in the program in the last year, 100 percent stayed in school, as compared to 40 percent of their peers with comparable backgrounds.
The eloquence and enthusiasm of the young people working the program further proves its effectiveness. Encouraged by the students, everyone from young kids to wealthy benefactors picked up paintbrushes to personalize the tote bags, flocking to tables strewn with canvas. Just in case, Publicolor provided Tyvek suits for the sloppier painters to protect their party clothes.
Nineteen artists, designers, and architects donated silk-screened outlines to guide amateur painters. Recognizable faces included Gensler's John Bricker, Rogers Marvel Architects ' Jonathan Marvel, Studios Architecture 's Tom Krizmanic, and industrial designer Tucker Viemeister . Downstairs, a silent auction included even more designs from the likes of Jamie Drake of Drake Design Associates and Laura Bohn of Laura Bohn Design Associates . The highest bid at $550 was for Carlos Falchi's tote bag.
Dinner commenced with a speech from Shuman: "The importance of design is incontrovertible to these youngsters. It teaches them to approach problems creatively, thinking outside the box and analytically. The lessons they learn through creative endeavors influence all aspects of their lives." Creative Ambassador of Barneys New York and the evening's emcee Simon Doonan then took the mic. Publicolor honored Michael Kaiser, president of the John F. Kennedy Center for the Performing Arts , Benjamin Moore , and Gary DeBode of Edison Properties for their generous contributions.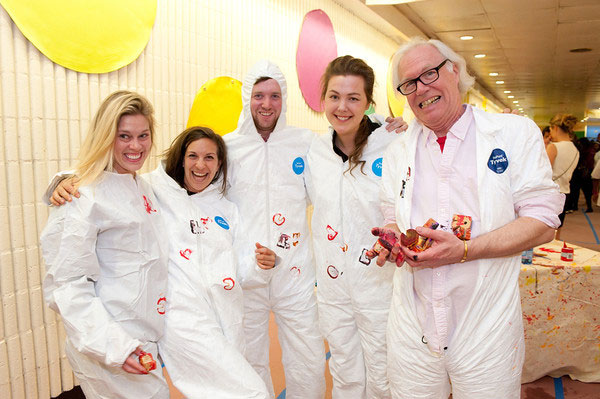 A team of painters, all clad in Tyvek suits, at Tucker Viemeister's (right) table. Photography by Greg Partanio/Manhattan Society.
Founder of Publicolor Ruth Lande Shuman with the evening's honorees, Michael Kaiser of the Kennedy Center, Gary DeBode of Edison Properties, and Michael Searles of Benjamin Moore. Photography by Greg Partanio/Manhattan Society.