Q&A: Stephen Balik of General Glass International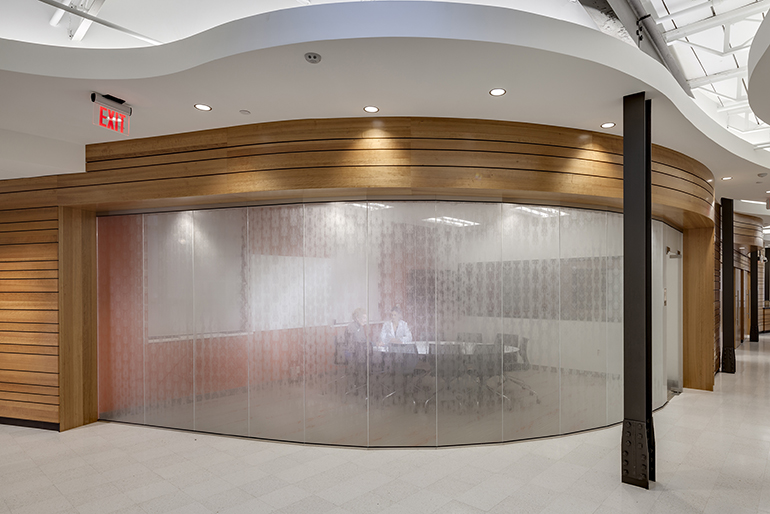 General Glass International is on the forefront of glass innovation in the built environment. The New Jersey–based brand collaborates with interior designers and architects to bring their most creative visions to life. Interior Design sat down with director of A&D Stephen Balik, fifth-generation of the family-owned company, to share his insights on glass's new applications and capabilities.
GGI's tagline is "See What Glass Can Do." Can you share the newest applications for glass and its capabilities?
Glass is functional, decorative, structural, and can be used for wall cladding, kitchen backsplashes, countertops, artwork, signage, railings, and flooring. Glass has become more than a core and shell building product. It's one of the most popular materials among designers and architects.
Today, we are seeing that the size of a single panel is constantly being increased. Look at Apple Park in California—pieces of glass are almost 60 feet long. We also notice a rise in self-supported structural glass. At Dilworth Plaza, where the supporting structure was entirely glass-clad, each piece was either a 6 or 7 ply laminate.

Glass wall systems are becoming popular in office renovations. The ability to transmit natural light combined with custom designs is very popular and lends individuality to spaces.
Tell us about GGI's Alice® Direct-to-Glass Printing technology.
GGI was the first U.S. company to adopt digital printing when it was introduced 10 years ago. Our technology allows custom designs to be printed directly on the glass at a maximum panel size of 110" x 236". Ceramic-based ink is then baked into the glass during the tempering process.
GGI's Alice® Direct-to-Glass Printing enables any design to be reproduced. Ceramic frit is digitally jetted onto the surface and then baked into the glass during the tempering process, which results in durable, decorative, and functional glass. This process offers significant benefits over traditional silk-screen printing and printed interlayers.
Digital files let the customer achieve their design goals while cutting costs associated with silk screening (screens, set up, and storage fees). Our files are archived and easily accessible if replacement panels are needed. High Resolution printing makes this process suitable for any graphic from fine lines, typography, and texture simulation to complex art images and photography.
Additional benefits include tiling a design over multiple glass panels to achieve larger images, control opacity based on privacy or lighting needs, and layering images over glass panels laminated together to add depth. With our MSKCC feature wall, we printed four partial images on four pieces of glass so the final image had a 3-D finish.

In addition to digital printing, we offer back painting with custom color matching. The two decorative techniques can be combined to create eye-catching designs.
GGI now offers fire-rated glass systems. What does this mean for commercial designers in hospitality, healthcare and office design?
We recently expanded our fire-rated product offering to include fire-protective glazing and framing systems. These products protect against smoke, flames, and radiant heat. Combined with GGI's experience in decorative glass, we now can provide insight to designers on the entire spectrum of glass options. No other decorative or fire-rated glass supplier can match this breadth of expertise.
What is the largest-scale project that GGI has completed in the past year?
GGI is known for custom glass fabrication, which means that almost every piece of glass that goes through our factory is unique. The individual pieces will vary in size, shape, thickness, glass type, and undergo different fabrication processes. This lets GGI handle projects spanning one piece to a thousand pieces.
One of our most iconic projects was the Harlem Hospital renovation. Over 400 unique glass panels were digitally printed, laminated, insulated, and titled across the building's façade. The mural translates into abstract images along the hospital interior corridors.

Can you share some trends in glass that you have noticed over the past year?
Glass marker boards, which can serve as wall cladding or dividers, have become popular in healthcare, education, and office projects. Freestanding or magnetic, glass marker boards are sleeker and easier to clean than other materials, and can be customized in color, size, and shape. They help promote collaboration among students, employees, and doctors.
You've been in the glass business for nearly 120 years. What do you foresee as the next innovation or revolution in glass?
Glass handling and processing is essential to achieving design goals. Much innovation within the glass industry will involve the development of machinery and automated processes.
Why work with GGI?
GGI offers expertise and a wide range of capabilities. By providing consultations, education services, and an array of architectural products, we empower designers to accomplish more with glass and to make the built environment more beautiful, inspiring, and sustainable.