Renzo Piano's Addition to the Isabella Stewart Gardner Museum Opens January 19







Evening exterior view of the new Special Exhibition Gallery in the new wing of the Isabella Stewart Gardner Museum. The Living Room visitor orientation space sits below.




Italian architect

Renzo Piano

's new building for the

Isabella Stewart Gardner Museum

, a 70,000 square foot, $115 million structure, is an open, airy, light-filled box that stands respectfully behind the Venetian-style palazzo, erected in 1902 by Gardner as a repository for her extensive collection of fine and decorative art. Boston's beloved Gardner, commonly referred to as "The Palace," contains more than 2,500 paintings, furniture, rare books, tapestries and decorative art with works that range from Titian and Rembrandt to Degas and John Singer Sargent.



Evening view of the façade of the new Evans Way Park entrance of the new wing. Outdoor art installation "Ailanthus" by Stefano Arienti.



The impetus for the expansion was the need to save the building, which was showing serious signs of age. The Gardner has always had a strong music program and a dedication to showing the works of young contemporary artists, but had very cramped, makeshift space for these activities. The new structure provides a jewel of a concert hall—a square cube that rises four stories, and an equally dramatic gallery space—another 36-foot cube—designed for special exhibits of visiting artists. It also houses a gift shop and a café as well as two apartments for visiting artists.



Evening exterior view of the new Evans Way Park lobby entrance of the wing with the Arienti in view.



Gardner had stipulated in her will that if her vision was in any way compromised, the mansion and all of its contents were to be sold. Piano's solution was to erect a separate structure, a striking composition in clear glass and patinated copper that rises to match, not to pass, the palace's height. Piano connected the two structures with a 50-foot-long glassed-in passageway. The addition has become the new entrance—the only change Piano and the senior project architect and partner, Emanuela Baglietto made to the old building.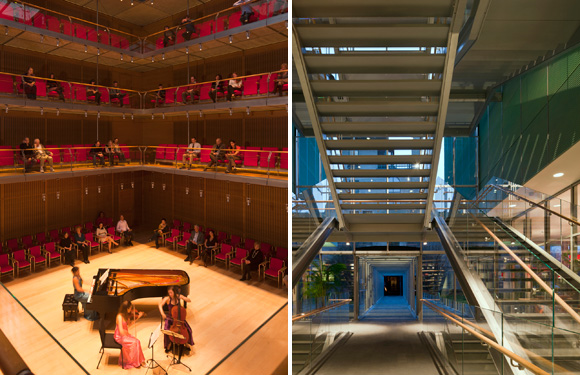 View from a balcony of Calderwood Hall. A view of the new central grand staircase.



The Gardner director Anne Hawley's mandate to Piano was to create a work of art. The final decision about if he succeeded will be left to the public to decide.

The Isabella Stewart Gardner Museum is located at 280 The Fenway, Boston. For more information, visit

gardnermuseum.org

or call 617-566-1401.




A view of the new Living Room visitor orientation space.



All images by Nic Lehoux; courtesy of the Isabella Stewart Gardner Museum.