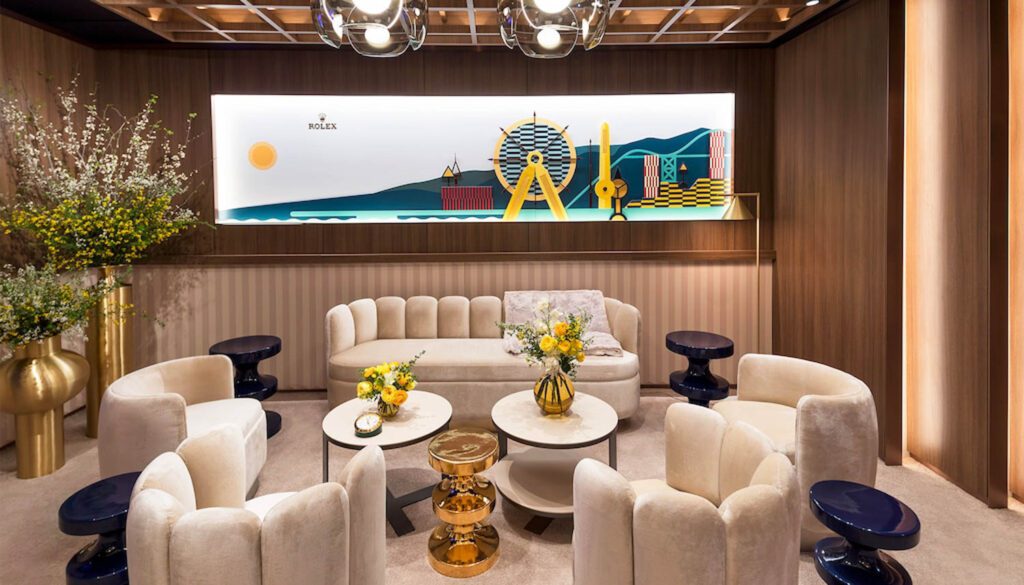 Rolex Offers a Nod to Hollywood Landmarks in Greenroom for the 2022 Academy Awards
The famed Greenroom. This year the Dolby Theatre antechamber is where Jane Campion, Ariana DeBose, and perhaps even Steven Spielberg are expected to hang out in anticipation of the gold statuette Oscar being awarded. As it has since 2017, Rolex, the equally famed watchmaker, plays host as sponsor of the Academy Awards, its worldwide telecast a celebration of cinema. Each year, the Rolex design team interprets a unique theme to create an immersive experience.
For 2022, it's a virtual love fest. Rolex pays homage to Hollywood and the motion picture industry's major studios. Spanning a lengthwise wall, panels create a stylized streetscape, overlooked by the renowned sign, where cognoscenti can identify such landmarks as Renzo Piano's Academy Museum of Motion Pictures, which debuted September 30, 2021. Look closely to appreciate the intricacy involved.  Adorning the composition's components are signature aspects of coveted Rolex watches. Think fluted bezels, hands, and cases. In an ingenious move, Rolex artisans sculpted each element, then sheathed it in leather for the mural's application. "The meticulous care that goes into making a watch and the attention we pay to detail are all present in the Greenroom," comments Arnaud Boetsch, the company's communication and image director. Now, the envelope please.