Ron Radziner and Leo Marmol: 2009 Hall of Fame Inductees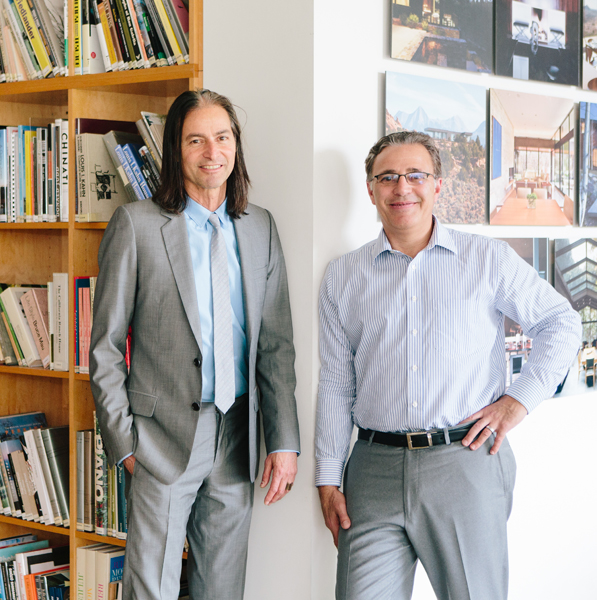 From ground-up structures and renovations, large and small, to cabinetry, metalwork, furniture, and jewelry,

Marmol Radziner

does it all. "We see interior design, landscape design, and construction as complementary to the architecture. The integrated design strategy is part of our design-build process," Marmol notes. Radziner adds, "When we are responsible for a project from conception through building occupancy, we are able to pursue both exceptional design and exceptional construction harmoniously." Equally inclusive are project types: residences, institutional buildings, and office and retail interiors that share a modernist-goes-contemporary attitude.

Marmol Radziner is a very California story, built on a foundation of diversity. Both
Marmol and Radziner are first-generation Americans. Marmol's family emigrated from Cuba to the U.S. in the 1950's. "I grew up in a Latin community. An architectural path was unusual," he says. Meanwhile, Radziner's parents, Dutch Holocaust survivors, came to L.A. in the 1950's. "From them, I learned to live life and do something I loved," he says. "Building, making things, is all I ever wanted to do."

The two studied architecture at California Polytechnic State University in San Luis Obispo. Radziner went on for a master's at the University of Colorado, where, incidentally, he grew out his now-famous hair as a buffer against the cold. They reunited in Los Angeles while working for different firms. Committed to L.A., which Radziner calls a "wonderful place for young architects to begin," they opened their firm in 1989.

Their breakthrough was an L.A. studio-garage project that allowed them to express a personal vision. However, those familiar with the firm's work invariably cite the renovation of the Kaufmann House in Palm Springs by architect Richard J. Neutra. "We started the project in 1993 and finished in 1998. The project is still talked about as if it were just off the boards," Marmol continues. Leo and the house even have a cameo in the Julius Shulman documentary, "Visual Acoustics."

A new pool house for the property followed, as did a spate of projects with a modernist lineage. For a studio executive, Marmol Radziner constructed a 3,000-square-foot addition to a 1956 ranch house built by Cliff May. In Pasadena, the firm laid gentle hands on a hilltop house, part of a 1953 Thornton Ladd complex. Restoration of a 1962 John Lautner house required extensive research into original materials. Marmol

Radziner's recent architectural rehabilitation of E. Stewart Williams' 1960 Santa Fe Federal Savings and Loan building will conclude in fall 2014, revealing a once-again stunning example of classic midcentury International style with the new Palm Springs Art Museum Architecture and Design Center, Edwards Harris Pavilion.

"Restoration provides a terrific learning opportunity. If we only did that, though, we'd go crazy," Radziner says. The build component of their design philosophy is essential.
Consider the Altamira residence, a massive complex on a 19-acre site overlooking the Pacific Ocean, with views framed by the local stone and concrete walls of the main house. Or the L.A. house that Radziner built for his family, his wife, graphic designer Robin Cottle, and their young son and daughter: The two long volumes epitomize the indoor-outdoor Southern California experience. In 2014, the Los Angeles Business Council awarded Marmol Radziner with a single family residential design award for its design-build work in the Trousdale neighborhood of Beverly Hills. The firm continues to deliver design that emphasizes the interaction between interior, exterior, and landscape, creating strong connections with the surrounding environment.


<<Back to All Hall of Fame Members