Room 406 Uses Residential Trend to Reach Clients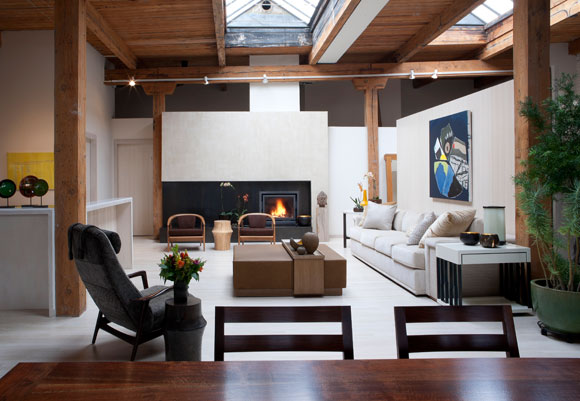 Deirdre Jordan and Bob Robinson, the duo behind Room 406, have curated a mix of vintage and modern pieces.




Deirdre Jordan and Bob Robinson, owners and creative directors of the Chicago-based furniture manufacturer

Troscan Design + Furnishings

, recently opened

Room 406

, a gallery devoted to furniture and artisan-made rare artifacts and accessories. The concept for the new space was inspired by the husband-and-wife team's backgrounds in architecture (hers) and woodwork (his), as well as their commitment to supporting artisans and sharing their talent with clients.

"Room406 gives us a new-found opportunity to connect directly with our clients and to show our work in a context that is much more like a salon or gallery than a showroom," says Dierdre Jordan. "The gallery has a residential scale and texture, mixing new work with vintage pieces, objects both old and new, contemporary art and luxurious modern rugs and textiles. It is truly a space where both designers and their clients can feel welcomed into a creative environment."



Details include bronze casting and smithing, hand finishing and intricate leatherwork.



Located in Chicago's West Grand Design District, the gallery's renovated 19th-century building features skylights, an open layout with whitewashed walls and floors, and a wood fireplace—not to mention the owners' three miniature dachshunds.
In addition to its revolving selection of carefully curated offerings from U.S. and international designers and manufacturers, the space will also serve as a forum for contemporary art and design exhibitions and events. Visitors can even tour the lower level which features a 12,000-square-foot workshop for local craftsmen.
Alongside the brick-and-mortar space, Jordan and Robinson launched a digital component. The online extension of the gallery will feature profiles of related artisans and designers as well as behind-the-scenes videos of studio visits and other content exploring inspiring materials, tools and techniques.



Look for exclusive wares from designers such as Ole Wansher, Paul McCobb and Frits Henningsen, Hiroko Takeda, Lillith Rockett, Jan Kath and Studio Donegal.