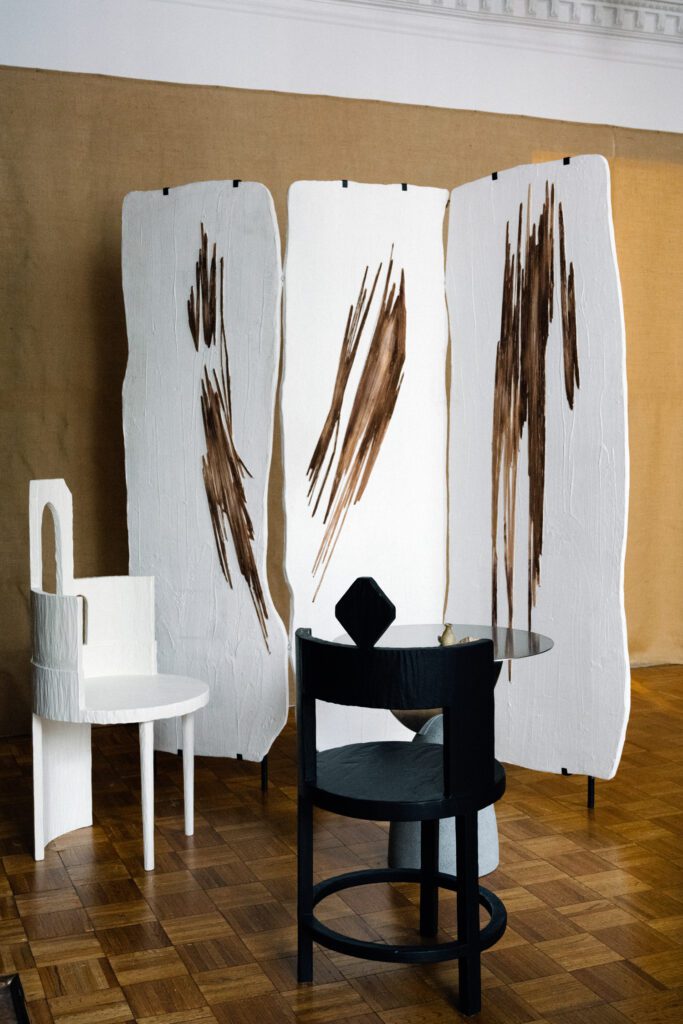 Rooms Studio's 'Distant Symphony' Exhibition
The Tbilisi-based design atelier (founded in 2007) lands in New York City with an exhibition of recent works. Located in Emma Scully Gallery nestled on the ground floor of a grand building on the Upper East Side, the namesake gallerist clad the walls in jute fabric shipped from Paris, a nod to pre-war gallery wall treatments and precursor to modern-day obligatory all-white spaces. The textured treatment layers onto the warmth of works in beeswax with the accompanying sweet smell, the Iron Secret cabinet in blackened, embossed copper and plywood, and a side table mixing basalt and stainless steel.
Nata Janberidze and Keti Toloraia comprise Rooms Studio, named for the basic unit of interior space. Beginning in the antechamber, polaroids, sketches, trinkets, and talismans from the duo set a reflective tone after pandemic isolation. The main gallery hosts pieces by collaborating artists, such as Shotiko Aptsiauri's wax stool and Salome Chigilashvili's impressive screen in using embroidery on plastered boards. This tendency towards group work references such Georgian folk practices as polyphonic singing, here reinterpreted as a design endeavor and explaining the show's title "Distant Symphony." Rooms Studios's own curvilinear wooden chairs from their Wild Minimalism collection further evoke the primeval while their wooden chess table takes inspiration from Soviet-era public furniture still found in Tbilisi. The exhibition is on view through November 20, 2021.