Santiago Calatrava's Peace Bridge Opens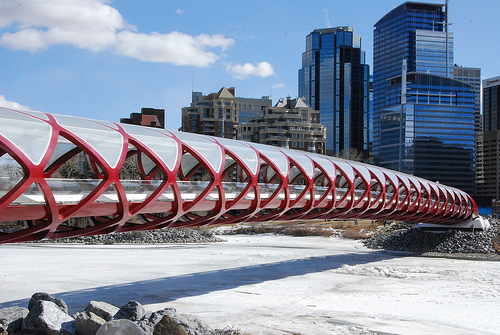 Photo courtesy of the City of Calgary






The Peace Bridge, the latest in Spanish architect

Santiago Calatrava

's portfolio of over 30 bridges, recently opened in the Canadian city of

Calgary

, Alberta, after three years of design and construction. The pedestrian bridge now spanning Calgary's Bow River presented something of a challenge for Calatrava, who faced serious site-specific geometric constraints: a no-fly zone, high water and ice levels, and a desire to avoid piers in the riverbed to minimize environmental impact. The restrictions left the architect with only 23 feet for the bridge's vertical profile, limiting his design options.  The result: a complex mathematical and engineering feat of twisting red steel measuring 19 feet tall by 26 feet wide that is enclosed in glass to protect residents from the harsh winter elements. The striking tubular structure spans 40 feet of river, linking the city's Memorial Drive thoroughfare and residential North Side to downtown Calgary.