Sergio Savarese, 48, Dies in a Plane Crash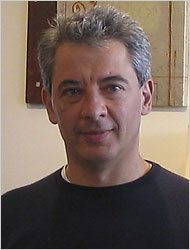 Sergio Savarese, a designer known for lyrical shapes and a founder of the furniture store Dialogica, died on Friday in a small-plane crash in Moffat County, Colo., that also took the life of his flying companion, Ivan Luini, according to their families. Mr. Savarese was 48 and lived in Manhattan and Southampton, N.Y.

The two men co-owned a plane registered to East End Aviation in Westhampton Beach, N.Y., and often traveled cross-country, visiting their respective stores, according to family members.

In 1988, working with his wife, Monique, an interior designer, Mr. Savarese created Dialogica, one of the first retailers in SoHo to feature contemporary furniture designs. They developed Dialogica into a multimillion-dollar business, with stores in Los Angeles and New York, and distributors in other cities.
Mr. Savarese's expressive and sculptural silhouettes and his wife's bold use of color helped mark a new informality in contemporary design — a break from the spare or historical aesthetics that were popular in the late 80's. Tailored velvet sofas, chairs and daybeds commanded cheerful attention with yellow, crimson or cerulean blue upholstery, with colors mixed together in a single piece . Mr. Savarese was born in Naples and moved to Rome. He was, his wife said, a designer by accident. He studied as a geologist and spent seven years working for health organizations in Africa, analyzing soil to determine what crops to grow. Returning to Italy, he designed a folding stool, found someone to produce it, and then expanded his collection. He met his future wife, who was studying at Domus Academy in Milan, and they married in 1987. Visit

The New York Times online

to read more. May require registration if viewed at a later date.