Sheila Hicks Recreates Her Striking Venice Biennale Pavilion at The Bass in Miami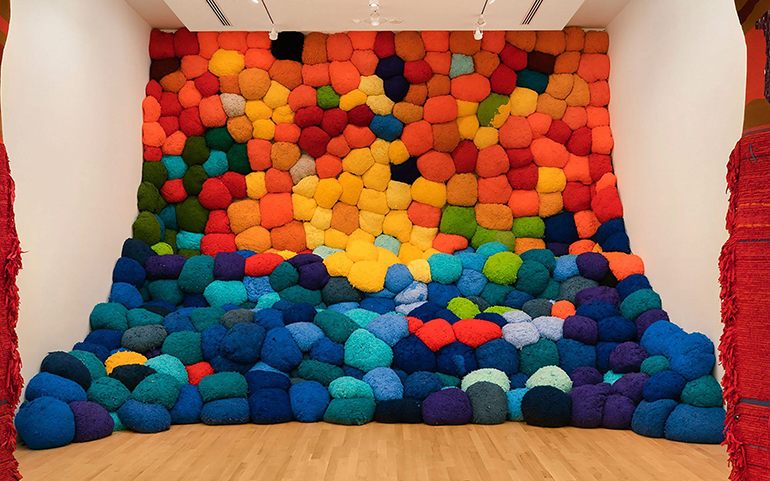 When Sheila Hicks first conceived her vibrant, larger-than-life installation Escalade Beyond Chromatic Lands for the Arsenale at the 2017 Venice Biennale, she faced a unique dilemma. "They gave me a space to exhibit that no other artist wanted because there were holes in the roof," Hicks, a renowned fiber artist who once studied under Josef Albers, recalls. "I thought, I can handle it."
Escalade would ultimately be remembered as one of the Biennale's most striking, and tactile, moments, and was recently reconstructed in full at The Bass Museum of Art, Miami Beach for Campo Abierto (Open Field), an ambitious survey covering six decades of the pioneering fiber artist's career. A floor-to-ceiling wall of multicolored bundles of pigment fiber pairs with tapestries in cotton and linen, which Hicks wove at a loom in Antigua, Guatemala, in collaboration with bespoke textile designer Mitchell Denberg.
Read More: Cindy Allen in Conversation With Sheila Hicks
Though the museum certainly appears more structurally sound than the Arsenale—the roof and walls here are entirely intact—The Bass had to reconstruct its upper story to properly accommodate Hicks's colossal installation, not to mention some 30 other works, many also ambitious in scale, spanning her oeuvre.
While this is Escalade's third iteration—it was also exhibited last year at Kunstenfestival in Watoui, Belgium—its hundreds of rainbow bundles are as bright as ever. They're not dyed; rather, Hicks crafts each one of pure powdered pigment that, with the help of a binding agent, transforms into a fiber.
"Do you know the difference between a carrot and a radish?" Hicks teases, likening each fiber bundle to the former. "A radish has color on the outside, but not the inside. A carrot is color through and through."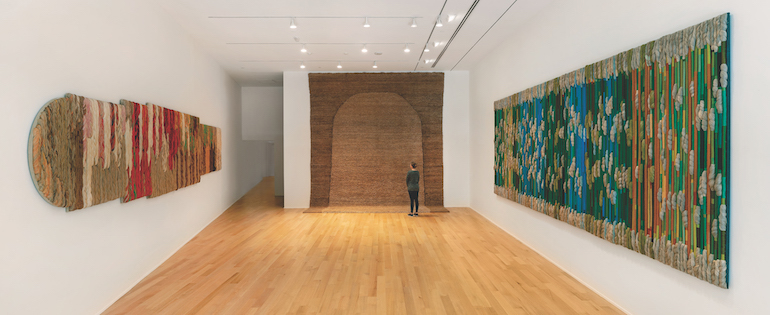 The fiber is produced in Turkey, processed in Western Europe, and finally woven in the United States. It fiercely retains its color in both sunlight and water. (Hicks even claims that she once left the material in a bathtub full of Clorox for two weeks to see whether the color would change. It did not.)
This retention of color makes it a choice medium for an artist whose works are frequently exposed to the elements. Take, for example, her 2017 installation Hop, Skip, Jump, and Fly: Escape From Gravity, where she wrapped aluminum tubes in another extremely durable material, Sunbrella solution-dyed acrylic, and installed them along New York's High Line.
Read More: New York's High Line Sets the Stage for Sheila Hicks
"It's a big advantage to take a supple, friendly material, to be able to walk it outdoors, leave it, and come back six months later to find it's still okay," she says of the pigment fiber. "That's been exciting to me because I'm so interested in three-dimensional sculptural and environmental works. It's a possibility I didn't have six or seven years ago."
Campo Abierto (Open Field) is on view through September 29, 2019.