Sherwin-Williams Debuts 2020 Color of the Year: Naval
Paint brand Sherwin-Williams today named Naval—a rich navy with hints of sapphire, which embodies the dualities of glamour and serenity—its 2020 Color of the Year. In other words: Art Deco, but make it soothing. Taking cues from the decadence synonymous with the 1920s, the bold hue strikes a balance between calm and confident, and pairs well with finishes such as marble and mixed metallics.
"The use of color in interior design is changing. It's not just about what a space looks like anymore, but how it makes you feel," said Sue Wadden, director of color marketing at Sherwin-Williams. "People want to feel grounded and inspired to pursue their mental, physical, and emotional well-being."
Sherwin-Williams considers Naval a versatile neutral, reminiscent of the night sky—a space of infinite depth. The velvety blue morphs to suit its surrounding, whether used to create a statement in a room or as a subtle background that enables other elements to pop, such as leather furnishings and woven textiles. "Naval can play into any mood you're trying to create, whether it's lively energy for a restaurant, or calm serenity in a hotel room," says Wadden.
The 2020 Color of the Year also marks a transition into a new decade of design, one likely to be influenced by the desire to indulge in a night out followed by a day of self-care. Sherwin-Williams' annual Colormix Forecast, which draws on research from the brand's global color and design team, expects warmer neutrals and biophilic colors, like greens and blues, to inform the aesthetics of interiors in coming years.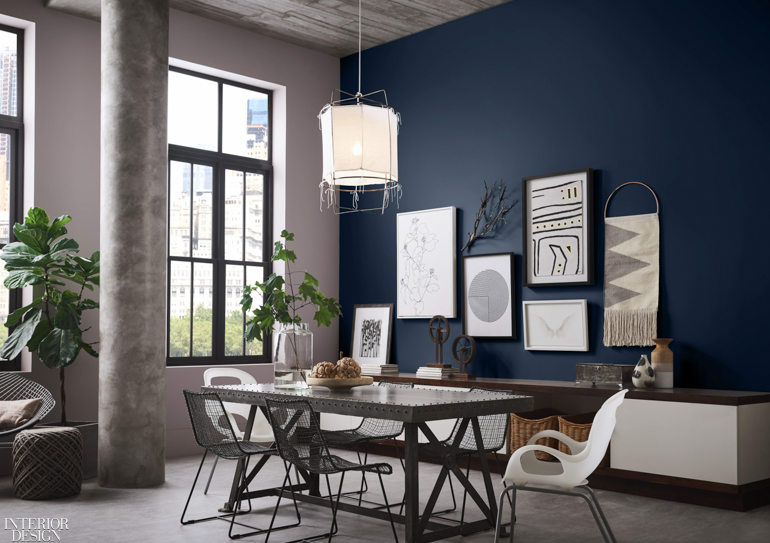 "We're predicting that the next decade in color is going to be bold. This year we saw the return of the 70s, and next year we think the vibrant energy and luxurious design of speakeasies will make a comeback," said Wadden. "Naval merges the desire for rich, inspiring color with our yearning for relaxation and retreat. In the next 10 years, we'll continue to move away from omnipresent neutrals and design will feel more personal again."
Read more: PPG Reveals 2020 Color of the Year: Chinese Porcelain