Splotch Test: A Roundup of the Latest Patterned Rugs

Interior Design

's roundup of nine rugs with patterns open to your interpretation. . .

1. Somoroff VI hand-spun rug in Himalayan wool in Llama by

Stephanie Odegard Collection

.

2. Custom hand-tufted rug in bamboo silk by

Doris Leslie Blau

.

3. Splash Supreme 3 rug in wool and silk in All Natural by

Marc Phillips Decorative Rugs.


4. This Moment hand-knotted rug in Tibetan wool and Chinese silk by

Amy Helfand

.

5. Christopher Wool's New Linen 8 hand-knotted rug in silk by

BravinLee Programs

.

6. Canopy 1 hand-knotted rug in wool and silk by

Modern Nature Design

.

7. River Basin hand-knotted rug in silk by

Organic Looms.

8. Bloom rug in Dune, Synergy rug in Fire, and Desire rug in Iolite, all in silk and hemp by

Jamie Stern

.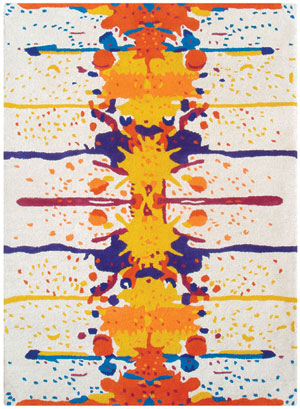 9. Boardwalk hand-tufted rug in wool-cotton blend in?BWS4635 by

Foreign Accents­.