Starbucks Unveils its First Coffee Shop on Wheels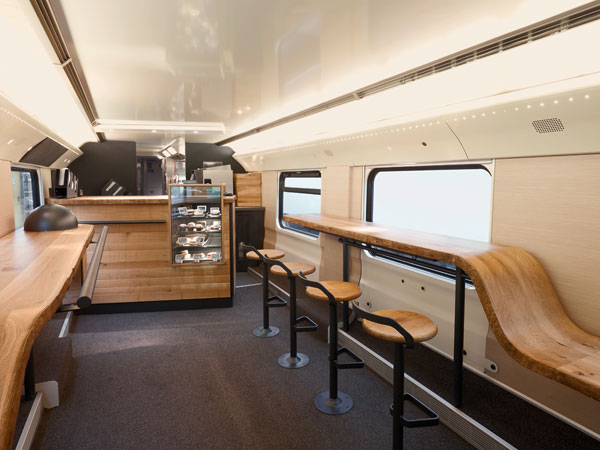 The entry-level coffee bar features seating for eight and a standing bar for travelers on short journeys.




Eleven years after

Starbucks

opened in Zurich—which marked its first location in continental Europe—the Seattle-based brand made another splash in Switzerland last month when the first-ever Starbucks on wheels launched, on the

SBB

train from Geneva Airport to St. Gallen.

One of the company's smallest locations, the mobile Starbucks seats 50 spread across two areas of the SBB train. The entry-level coffee bar is designed for travelers on short journeys, sporting both a standing area and a windowside bar with stools. Refreshments are served from a small curved bar and pastry case at the end of the car.

Upstairs features a larger lounge with table service for passengers traveling a greater distance. The table tops incorporate numbers into details reminiscent of dials on a Swiss watch, and seats are upholstered with luxurious beige leather. Travelers can choose between movable club chairs at two-seater tables or wooden community tables where they may engage with other passengers. Lanterns lighting the upstairs lounge are inspired by the iconic white Starbucks cup, and the color scheme throughout is taken from the rich hues of coffee and steamed milk.



The upstairs lounge area features moveable club chairs and lighting inspired by the iconic white Starbucks cup.



Liz Muller, the creative director of global design for Starbucks, says, "The Starbucks on a train is a great example of our global design philosophy at Starbucks—all of our stores around the world are distinctly designed to reflect the local community, driven by sustainability and the customer experience. We leverage our in-house design team in more than 18 studios around the world to carry out this philosophy."
Muller says the design for this particular location presented unique challenges, including limited space, strict safety regulations, and the movement of the train. The Starbucks design team worked closely with SBB to develop a space that provides a comfortable journey for customers.

On a global level, Starbucks is implementing unique designs to celebrate their heritage and address the unique needs of various locations, including the first LEED-certified Starbucks in Fukuoka, Japan, and a stunning outpost in the Galleries Lafayette in Paris.



The train's exterior features the recognizable Starbucks logo.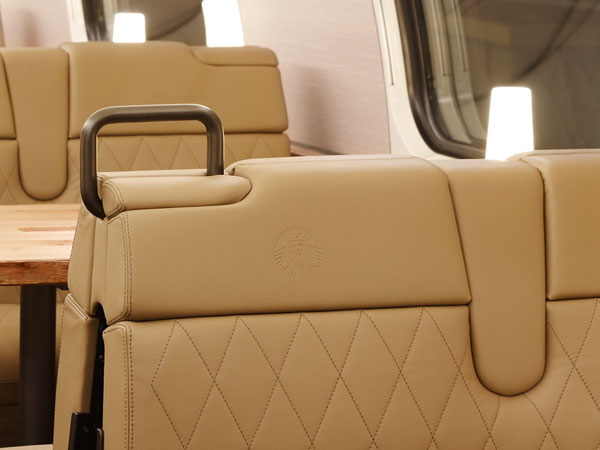 The Starbucks logo is embossed in high-quality leather on the seats in the upstairs lounge.