Stefano Tordiglione Design's Apple & Pie Shop Debuts in Hong Kong



Apple-shaped seating conceals extra storage space and make for a whimsical spot for children trying on shoes.



Playful, modern, and natural best describe the new

Apple & Pie

children's shoe store located in One Island South, Aberdeen, Hong Kong.

Stefano Tordiglione Design

, the Hong Kong-based Italian interior design and architecture firm, created a visually appealing space where families are invited to shop, play, and unwind.  "Our goal was to create a fun, welcoming, child-like environment, that was also practical for shopping," said Stefano Tordiglione. "We made sure to have appealing design elements for both parents and kids, such as the child-sized Kartell seats that surround the play tables and the chalkboard wall filled with drawings to spark the imagination."



A 3-D tree fixture pops out from the wall in the center of the store.



Tordiglione and his team first created a new logo—a half apple, half pie icon that perfectly illustrates the brand's devotion to nature and fun. Those same elements would later be incorporated throughout the store, influencing the large apple-shaped fixture that greets visitors at the front door, as well as the lattice-shaped display fixtures, a nod to the pie half of the company logo.
At the owners' request, the majority of the store was designed using sustainable components, with wood playing a major role and lending the store warmth. Modern elements include the sleek hanging Ethel lights, while the color red makes its presence known thanks to the oversize cushy apple-shaped sofas and the Anglepoise-designed floor lamp.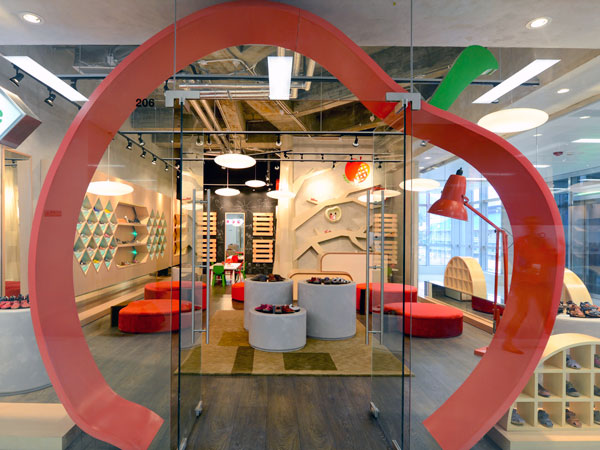 A 3-D tree fixture pops out from the wall in the center of the store.