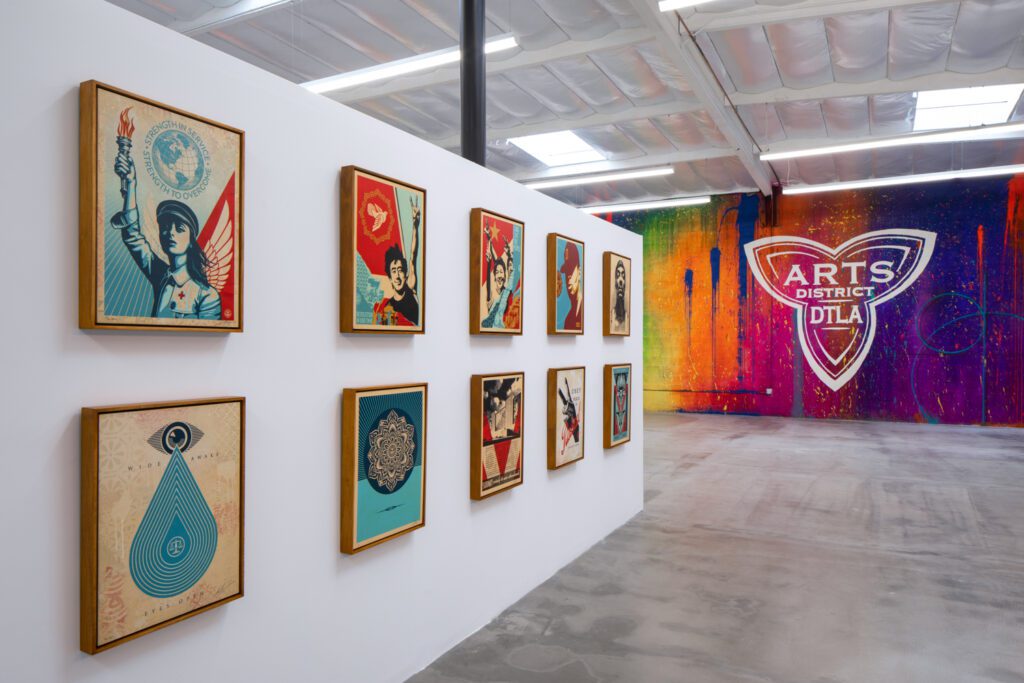 Street Art: Inside and Out in Los Angeles
Just as the Downtown Los Angeles arts scene was claiming fame as a bona fide destination for connoisseurs, hipsters, intrepid explorers, and, of course, foodies along came the COVID-19 pandemic. Boom. Shutdown. But as a current temporary exhibition proclaims, art survives. In fact, its name is Art Beyond Survival, and it's as much a celebration as an exhibit. Street art, skateboard culture, and the pressing concerns of culture at large coalesce at Mateo & Seven, the address and brand for an industrial, former food manufacturing facility built in 1984 and revitalized by SO|DA LA. In the spirit of resiliency, unleased (at least currently) space was given over to gallery space, and under the curatorship of Damon Martin, 10 artists got to work inside and out. Martin, himself an artist, called in pals such as Shepard Fairey, Kelly Graval known as RISK, Thomas Garner, and Freehand Profit.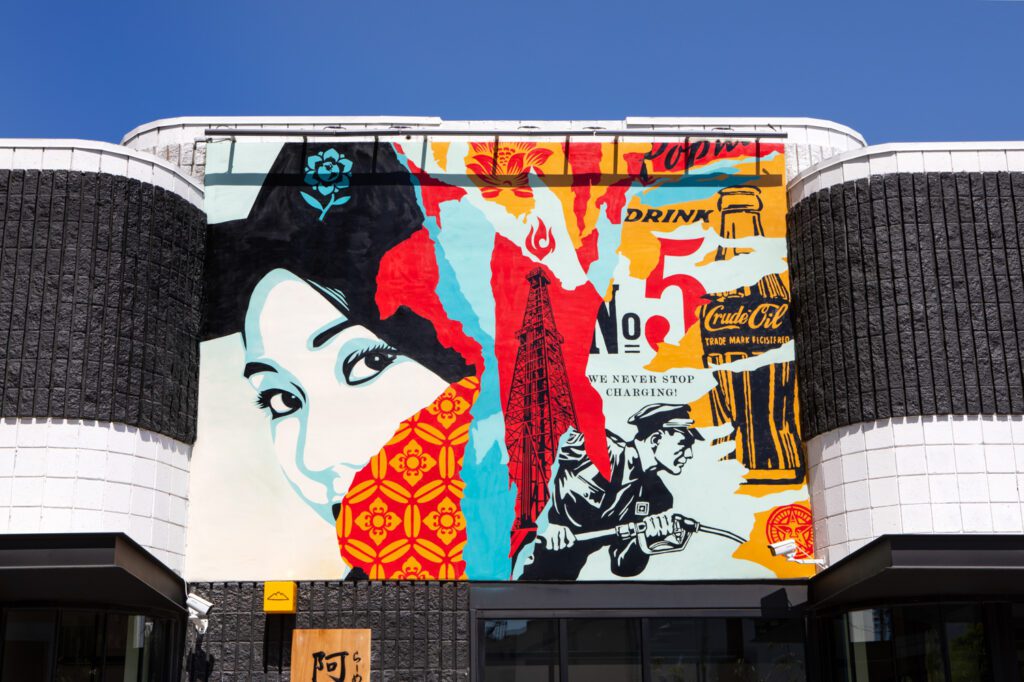 Outside, Fairey's mural Drink Crude Oil continues the artist's political activism, while one by Thomas Garner pays homage to Frida Kahlo. Both installations honor public art. The mural format comes inside via a vibrant mural by RISK. Spanning 100 feet with day-glow colors, drips, and butterflies galore, it also incorporates the Arts District DTLA logo by Martin on one end and Fairey's shield on the other. Ai Weiwei peers out upon the space as portraits, one rendered in rouge and black, the other chiaroscuro, also by Martin. Perhaps the artist's most intriguing works, however, are the trio of suspended sculptures cum lighting fixtures. Each is inscribed with the name of a Black victim of police brutality: George Floyd, Breonna Taylor, Ahmaud Arbery. The shapes roughly resemble prone bodies; the black background for their names recalls police tape at crime scenes.
On a lighter note, Victor Castillo's paintings resemble toon cells and are titled We Were All to Be Kings. Freehand Profit's golden masks fashioned from sneakers are like nothing we've ever seen. Even the skateboard ramp, put to good use by William Sean Sheffey of Plan B skate team, is a for-sale art object. As are the silkscreen prints and paintings populating the gallery. Prices range from $4,000 to upwards of $20,000. The exhibit opened September 1 and will be up for two months as of now. Partial proceeds benefit The Humane Society International and Life Rolls On Foundation.
Tenants promise another draw. Already on site are AFURI Ramen + Dumpling and a Kvadrat showroom. London-based chef Junya Yamasaki has moved to Los Angeles and plans to open a Japanese restaurant, café, and wine bar. Until he does, hungry patrons can pony up to the bright orange food truck, Yess Aquatic, for a selection of seafood dishes.