Student Outlook, Part 2

This article is the second in a three-part series profiling nine Class of 2013 design students

Interior Design

spoke to about their post-graduation outlook. See below for the main article and related content. See

Student Outlook, Part 3.



Joseph Escobar, age 21, BFA in Industrial Design, RISD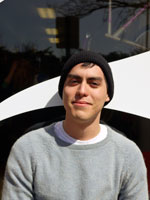 Sustainable design is top-of-mind for Joseph Escobar, who was awarded a

Maharam STEAM Fellowship

and worked with the Sustainability Coordinator in Providence, RI, to see how municipalities and universities can collaborate to create a materials reuse system to divert materials from the waste stream and make them available to the community.
Escobar has, for the past three years, managed

RISD 2nd Life

, a student-run art supply and material reuse center, which since opening a storefront in September has saved more than 8,000 pounds of goods from the waste stream and provided art supplies to more than 1,000 people who might otherwise not have been able to afford them.
Escobar traces his interest in sustainable re-use to his "Green Materials and Green Manufacturing" class at RISD with Peter Dean, a lifelong furniture maker, whom he credits with "introducing me to the larger impact design is having on the rest of the world and on global issues."
And Escobar is confident he's chosen the right field. "Good design is now becoming viewed as a necessity and not just a luxury," he notes. "With this shift comes a greater demand for designers."

Arianna Lebed, age 22, Bachelor of Architecture, Pratt Institute



For Lebed, her first priority is continuing to challenge her creativity. "My dream job would be working for an innovative office that pushes the envelope in design," she says. "Creativity is such an important aspect of schooling that I do not want to lose that momentum. I want to continue to churn out projects that are unique and inventive."
Although Lebed views design as no more significant today than it was 10 or 20 years ago, she does believe it's evolving. "Design today can solve problems at multiple scales, create new and interesting social interactions, or even reinvent old design with new contemporary technology," she notes. "Currently on my radar is architecture that heavily uses computational methods in its design to augment its efficacy."
Job-wise, she is realistic about the competitive architecture field, noting that many of her fellow students are considering graduate programs "to increase their chances of employment with credentials." Lebed interned this past summer with a large architectural firm. She plans to rely on networking "to get a foot in the door and resume to the top of the pile," she says.

Amanda Zaitchik, age 26, MS in Interior Design, Pratt Institute


Internships have also proved valuable for Amanda Zaitchik, who worked for furniture company

Vitra

in 2011, and for the past six months, at

Rockwell Group

. "In my studio alone, there are designers working on playgrounds, theater set design, products, and graphic design, just to name a few," she says of her stint at Rockwell. "It's exciting to walk around and get inspiration and ideas, and I could imagine working in an environment like that for a lifetime without ever getting bored."
Zaitchik said she is excited by contemporary issues that "make design more salient today…I see a changing corporate culture in which branding is not only for retail; it is increasingly important and expected for any company, and those branded identities are manifested largely through design."
As for what makes design effective, she says: "I'm less interested in things that are simply beautiful, or even beautiful and functional. I think we're at a point where design is so pervasive that it requires something more to be distinctive, and for me, it's about creating a narrative that connects people to their environment and to each other."

Alumni Q&A: Bill Hilgendorf and Jason Horvath