Student Outlook, Part 3

This article is the third in a three-part series profiling nine Class of 2013 design students

Interior Design

spoke to about their post-graduation outlook. See below for the main article and related content.



Yehuda (Yudi) Kaufman, age 26, BFA in Interior Design, FIT



Yudi Kaufman studied business management and accounting before realizing: "my desire to explore the world and make it a more beautiful place seemed far more satisfying than crunching numbers at my desk." He is also confident about a successful job search in 2013 and credits FIT's interior design program with "teaching us to be serious go-getters, so, when we do graduate, we have the tools and the confidence to find full-time positions."
While studying, Kaufman has had internships at a small Manhattan design firm and at a luxury tile showroom, which he credits with teaching him a "great deal about how the industry actually works" and "how competitive it is."
As for opportunities, Kaufman is excited by the fact that the smartphone era has made design a huge factor in popular culture. "With 'apps' like Instagram and Pinterest, anyone can snap a photo of something they see and like or dislike, tag it and share it with their friends and followers instantly," he says.

Debbie Stahler, age 22, BFA in Interior Design, FIT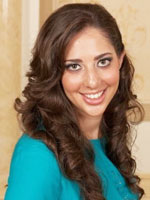 Like Kaufman, Debbie Stahler appreciates the real-world insights her internships with two small Long Island-based interior design firms and a bedding company have provided.
"The opportunity to see job sites from the initial design phase to completion has helped me to understand the entire design process," she says. "This is so important for a student since the projects we work on don't actually come to fruition."
As she surveys the design landscape, Stahler said she is most inspired by how technology is being incorporated into design: "For example, Tesco supermarket in Korea has used technology to transform subway stations into virtual grocery stores. Posters lining station walls feature virtual products, identified by QR codes, which can be scanned by the consumer, processed by Tesco, and delivered to the consumer's front door," she says.
Larry Peifer, age 28, BFA in Interior Design, CCA

Larry Peifer said his decision to focus on interior design was simple. "I wanted to spend my time improving everyday experiences-rethinking how people interact with their environment," he says. "Interior (design) is that intersection between architecture and products that in my eyes has the heaviest focus on direct human-space interaction."
Peifer also said the tough economic environment has forced him to "think about himself as a creative generalist," and a to cast a wide net in his upcoming job search. His internships with

Skidmore, Owings & Merrill

and

Gensler

in San Francisco helped hone his focus.
"I am big into rethinking corporate now," he says. "While I was at Gensler, I worked with an incredible team at Nokia's R&D headquarters in Sunnyvale. It was a truly interdisciplinary project that in my view really pushed boundaries and rethought what the corporate workplace was, how it functioned, why it exists, how it looks."
Facing a job hunt next year, he added: "I think it is a tough time to be graduating from college but I think it is a great time to be a designer."

Charlie Weber, age 27, BFA in Industrial Design, CCA


Charlie Weber attributes his interest in design to "being very attuned to successful and not-so-successful design details in the products that I interact with-things that were surprising, aggravating, smart, lust-worthy," he says. After getting a degree in architecture, working for small firm and then losing that job when the housing bubble burst, Weber said he took a bicycle frame building class and realized, "I wanted to concentrate on designing products," he says.
Furniture and lighting design are his new passions – especially the work of London designers such as

Jasper Morrison

and

Benjamin Hubert

– and he credits internships with

Motorola Mobility

and

Astro Studios

with: "exposing me to the importance of selling a vision and doing it with clarity, both visually and verbally," he says.
Looking forward, Weber says his philosophy is simple: "I believe that successful design is intuitive, clean and durable."

Alumni Q&A: Bill Hilgendorf and Jason Horvath