Studio Libeskind's National Holocaust Monument Opens in Ottawa
Studio Libeskind has finished work on the National Holocaust Monument in Ottawa, Canada. The monument, located near the Canadian War Museum, honors the millions of victims killed under the Nazi regime and the survivors who emigrated to Canada.
Formed from six triangular cast-in-place volumes of exposed concrete, the monument takes the shape of the Star of David. Each form provides a different program area, including spaces for contemplation, historical interpretation, and gathering. "The monument creates a very important public space for the remembrance of those who were murdered during the Holocaust," Daniel Libeskind says. "It also serves as a constant reminder that today's world is threatened by anti-Semitism, racism, and bigotry."
The space is defined by evocative design details. Canted interior walls showcase photographer Edward Burtynsky's large-scale murals of Holocaust sites in the present day. In another corner, four-meter-high walls create the Sky Void, which encloses visitors in a cathedral-like space that frames the sky from above. The Stair of Hope, which rises from the central gathering space, cuts through an inclined wall and points toward Canadian Parliament buildings in a gesture to survivors.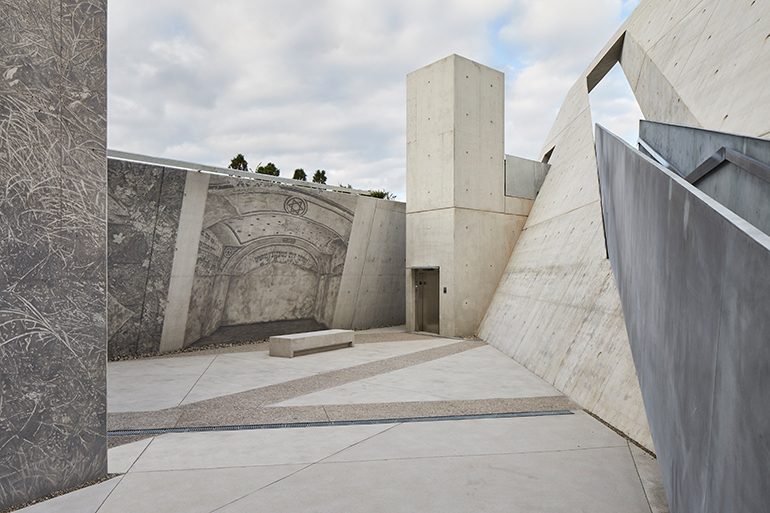 Studio Libeskind collaborated with Burtynsky, Lord Cultural Resources, landscape architect Claude Cormier, and Holocaust scholar Doris Bergen to see the monument through to completion. Studio Libeskind has completed several large-scale cultural projects that commemorate Jewish culture, including the Jewish Museum Berlin (1999) and Danish Jewish Museum (2003) in Copenhagen.