Studio O+A Launches San Francisco Pop-Up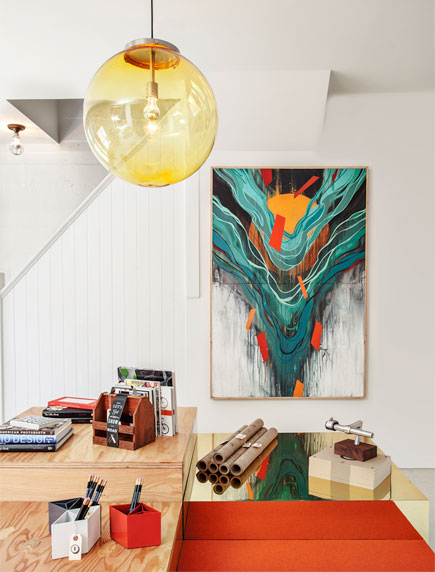 Bureau offers fine art, such as Erik Otto's painting "Breakaway", alongside practical items including a bicycle bell by Oliver DiCicco. Photo by Sakae Beers.
Studio O+A , known for their work environment designs for Facebook, Microsoft, and Yelp, has turned their attention to their own workspace, debuting a conceptual retail environment called Bureau. The pop up shop fills a 375-square-foot anteroom below the Studio O+A offices in San Francisco, on a ground-level floor used by their sister company POD Office .
"For me, it's an experiment," says Verda Alexander, Studio O+A co-founder and principal, who came up with the concept. "I wanted to create a space where O+A's designers could play around with ideas about the workplace."
The shop utilizes OFS Brands's Edge modular workstation to display its wares; the wall-mounted planters are by Matthew Chen. Photo by Sakae Beers.
Industrial items like a roll-up garage door, pegboard merchandising displays, and lighting from Rich Brilliant Willing and Schoolhouse Electric are offset by more conceptual touches, like a sculpture from Nuttaphol Ma built from repurposed Home Depot items, and textiles from Helena Keeffe .
Originally, says Alexander, "I thought we would stock one-off, custom-made items, and when you bought a piece it would just go away and the store would become emptier and emptier, until there was nothing left." As Bureau began sourcing, however, they found small-batch products made by local artisans, filling the shop with an ever-changing assortment of furniture, lighting, bags, books, and cycling accessories. The fullest expression of Bureau's intent, though, is The Edge, a modular workstation O+A designed for OFS Brands 's First Office series and displayed at the Bureau's opening. The end result, Alexander, "went more retail than my original idea." But never fear: she promises "to go more experimental in the future."
Bureau's motto is "ordinary things artfully done," as evidenced by this stairwell-cum-inspiration board. Photo by Neil Bartley.