Super Green Fenway Center Development Approved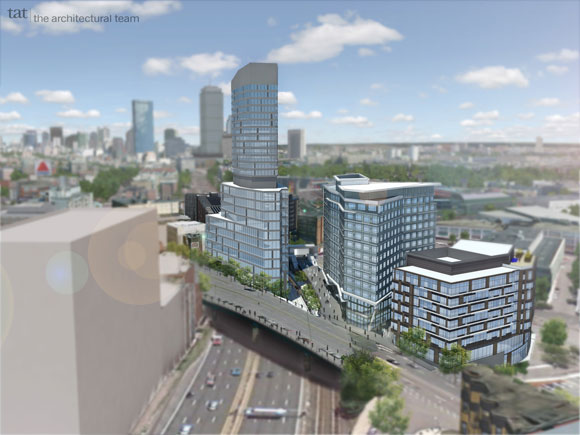 East view of the future Fenway Center Development in Boston.



After over five years of delays, Fenway Park's notorious "Green Monster" wall will at last have a neighbor.

Boston's Department of Transportation

has granted final approval for the new

Fenway Center Development.


The Architecture Team

's five-building, 500-unit complex will feature private residences, offices, and retail spaces adjacent to the new Yawkey Commuter Rail Station in the midst of Boston's Fenway, Kenmore, and Longwood Medical Area neighborhoods. The vast project required several years of bureaucratic wrangling by the Team and local developer John Rosenthal of

Meredith Management

.



West view of the future Fenway Center Development in Boston.


More impressive than the monstrous delays, though, is the green result: when completed, the Center will feature one of the state's largest private solar power plants, and Boston's first net-zero energy train station.

"Since the parking garage is being built over a new deck spanning the Massachusetts Turnpike, it is oriented in an east-west direction which presents a long south facing wall and roof which are ideal for photovoltaic panels," explains Jay Szymanski, AIA, LEED AP, associate at The Architectural Team.

View from the West.

Explains Szymanski, "After careful consideration of shadows created by the existing adjacent buildings as well as the project's proposed buildings in both Phase One and Phase Two, it was determined that with the planned photovoltaic system, it is possible to provide a significant amount of electricity for the Fenway Center project in addition to providing all of the power required by the new Yawkey Station."
Construction on the 4.5-acre site is expected to begin this fall.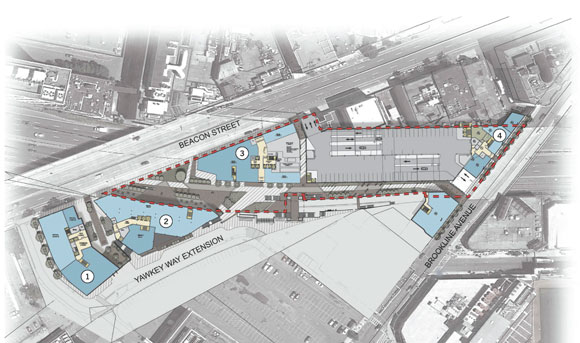 The site plan for the Fenway Center Development in Boston.