Swarovski Crystal Palace Headlines with Conservation at Design Miami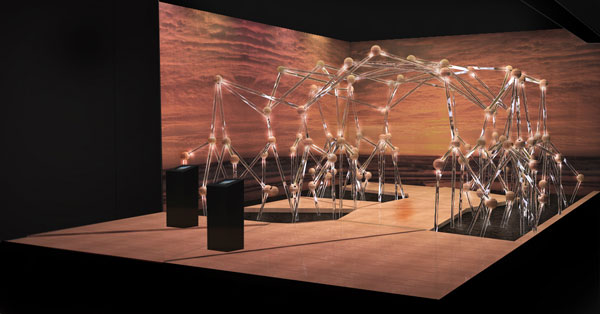 Rendering of the "Mangue Grove" installation by Guilherme Torres at Design Miami.





Swarovski Crystal Palace

, now in its sixth year as main sponsor of

Design Miami

, has commissioned work by heavy-hitters like

Ross Lovegrove

and

Fredrikson Stallard

. This year, they installed "Mangue Grove," an architectural meditation on environmental conservation by Brazilian architect and designer

Guilherme Torres

.

"This merging of design and nature," says Nadja Swarovski, "will be visually stunning but also draw attention to the preservation of Brazil's endangered aquatic ecosystems."

"Mangue Grove" references Mangrove forests in its synthetic tubes filled with lead-free Advance Crystal from Swarovski, lit by LED. Certified and reclaimed wood pathways wind around them, showcasing a shallow pool of water. Viewers can experience Torres's take on the Amazonian sunset at 5 PM each day, when the LED light patterns will join with dynamic sound recordings to mark the passage of time.

Torres further investigates the connections between nature and science with his use of the Voronoi diagram, a form of tessellation often used to calculate rainfall or forest growth patterns. The fields created by the Voronoi diagram can be seen in the patterning of giraffe spots, turtle shells, and tree leaves. For "Mangue Grove," Torres utilizes it to determine the placement of joints within the tubular structure.

"The Mangroves of Brazil are one of our most cherished natural resources," says Torres, "but they are under constant threat, so it has been really rewarding to work on a project that promotes their conservation."

Born in Sao Paulo, Torres originally established his Studio GT in Londrina, Brazil, in 2001, and relocated to his home city in 2010. He has designed residential and commercial properties throughout South America, as well as projects for Mi Casa, Brazil's famed source for design.

The installation can be seen at

Design Miami

from December 4th through the 8th.



Rendering of the "Mangue Grove" installation by Guilherme Torres at Design Miami.