Swarovski Teams with John Pawson For Venice Install


Perspectives


, an installation by minimalist designer

John Pawson

for

Swarovski

, recently opened as a collateral event for the Biennale di Venezia's

55th International Art Exhibit

, sprinkled through various venues throughout the city. Located at the 16th-century Basilica di San Giorgio Maggiore, Pawson's installation features a more than 15-inch-long concave crystal meniscus lens, the largest Swarovski has created to date, and is the first project sponsored by the newly established

Swarovski Foundation

.
The foundation, whose mission is to support and promote creativity and culture through its collaboration with high-profile designers such as Pawson, will also provide a financial donation to help restore the statue of San Giorgio that stands atop the church's dome. This restoration is taking place to help ensure the preservation of the 16th century-built Basilica, well-known to be an important, historic example of Palladian architecture.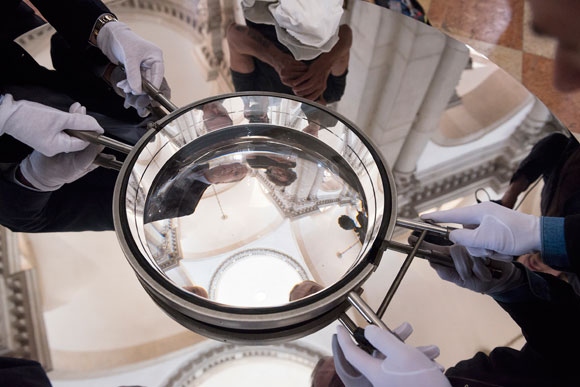 Photo by Gilbert McCarragher.

Pawson created the unique optical installation by using simple materials yet a complex combination of light, space and proportion. Initially installed in the Geometric Staircase of St. Paul's Cathedral for the 2011 London Design Festival,

Perspectives

is now in place beneath the central cupola in the Basilica di San Giorgio Maggiore.  This strategic placement provides visitors with a fresh view, allowing them to gaze at the Basilica as never before to further appreciate the architectural elements.
Nadja Swarovski, a member of Swarovski's Executive Board and chair of the Swarovski Foundation's board of directors, recently commented about the event: "We are proud to collaborate once again with John Pawson… A master of minimalism, his simple but magical piece pays eloquent tribute to the complex majesty of the Basilica di San Giorgio Maggiore and to Palladio's creative genius."

Photo by Gilbert McCarragher.