Thayer Coggin's Anniversary Road Show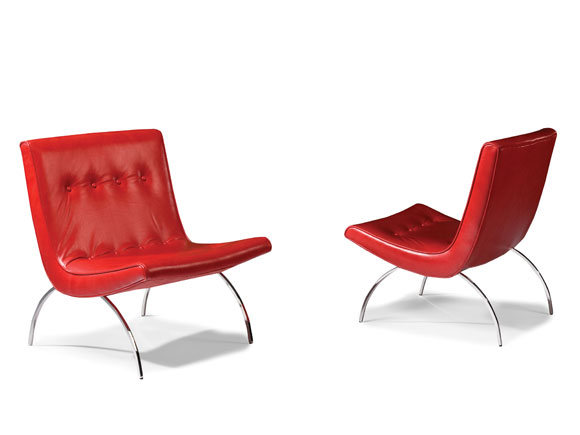 The first piece designed by Thayer Coggin co-founders Thayer Coggin and Milo Baughman, Jr., the 1953 Scoop.






Thayer Coggin

, the furniture giant best known for its work defining the Mid-Century Modern movement, will embark on a nationwide road show commemorating the manufacturer's 60th anniversary. The yearlong tour kicked off last week in Dallas at the

Cantoni/Contempo Designs

showroom at the World Trade Center. Next up, Thayer Coggin Trunk Show visits Baton Rouge, Louisiana, on January 30 at

Dixon Smith Interiors

.
For the road show, the High Point, North Carolina-based company will send transfer trucks filled with more than 20 of its original groundbreaking designs to showrooms across the country. Items on display will showcase the sheer breadth of the company's history and will include the first piece to be designed by co-founders Thayer Coggin(above, left) and Milo Baughman (above, center), Jr. in 1953, the Scoop (model #1220-103), a lipstick red chair with polished stainless-steel legs. The collection will span the decades, ending with the wood-tipped Studio MB, (model #1001-103) Baughman's last design before his death at the age of 80 in 2003.



Studio MB (model #1001-103), Baughman's last design before his death at the age of 80 in 2003.



"Even though the word 'iconic' is used a lot these days, the design of these pieces really is iconic," says Phil Miller, director of sales and marketing for Thayer Coggin. Miller will be in attendance at each tour stop to share the company's storied history and introduce the furnishings on display.
Over the next year, the show will make stops at more than 25 cities, including New York City, Miami, Boston, Detroit, Chicago, Los Angeles, San Francisco, and Salt Lake City. Thayer Coggin dealers in each city will host the road show at their showrooms, and each event will include a cocktail reception and a gallery of historical photos tracing Thayer Coggin's history.