The 2019 Oscars Greenroom by Rolex Goes Deep
An Oscar statuette in your hand and a Rolex watch on your wrist—it's safe to say that millions have dreamed of that scenario. These two icons of cinema and style coalesce this weekend in the design of The Greenroom at the 91st Academy Awards, being held at Los Angeles's Dolby Theatre. It's here in this Rolex-designed pre-stage area that the film industry's biggest stars will wait—either anxiously or with cultivated cool—amid an imaginatively designed mise-en-scène. The theme is different every year and on Sunday night, in honor of Rolex's Perpetual Planet campaign aimed at safeguarding the environment, it is a submarine voyage to the bottom of the sea.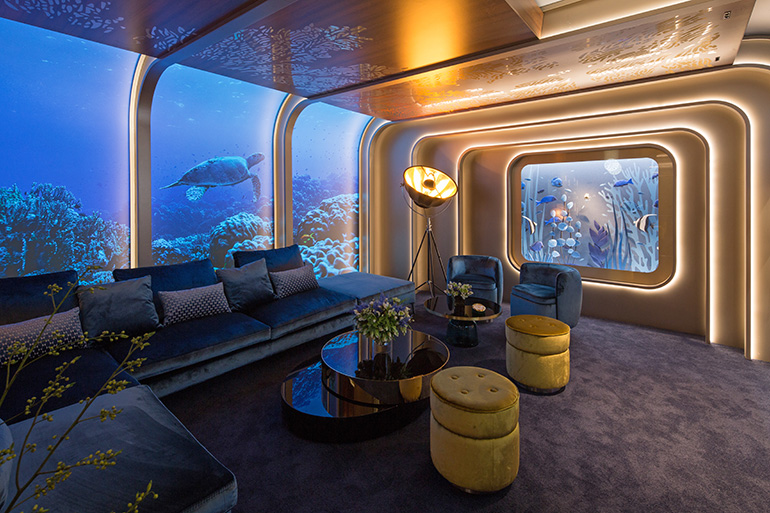 The Rolex collaboration began in 2016 and expanded the following year when the Swiss luxury watchmaker became a sponsor of the Oscars evening. Entrance to this year's glamorous yet compact vessel is via a bronzed hatch. Inside, aqueous colors upholster the curvy furniture, meant to recall waves.
The real thematic elements come from "outside" the sub, where immense backlit photos give views of the deep while the ceiling and walls feature laser cut-outs shaped like coral. Presiding over it all is a life-size version of the golden man himself. Envelopes await.
Planning to watch the 91st Academy Awards? Check out our preview of the Swarovski-studded stage set, designed by David Korins.