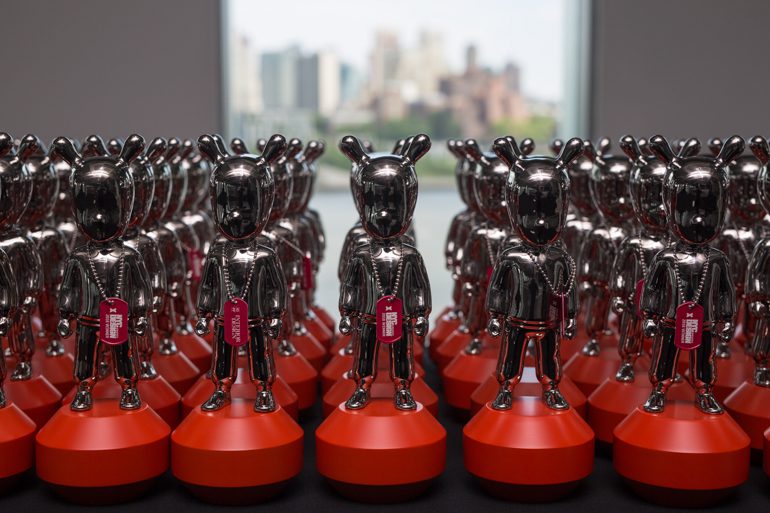 The 2022 NYCxDESIGN Awards Finalists Are Announced
Interior Design is excited to announce the finalists for this year's NYCxDESIGN Awards. This year's NYCxDESIGN Awards Ceremony, hosted by editor in chief Cindy Allen, will take place in-person at The Landing, 1 Pennsylvania Plaza on Tuesday, May 10th. Join us at the celebration as the project winners are revealed! The ceremony will also live-stream on DesignTV by SANDOW.
Tickets to attend the opening party are available for purchase here.
NYCxDESIGN Awards 2022 Project Finalists
| wdt_ID | Category | Firm Name | Project Name |
| --- | --- | --- | --- |
| 1 | Exhibition/Installation | Atelier Cho Thompson | Interwoven |
| 2 | Exhibition/Installation | Current | Current: Tides of Contemporary Design |
| 3 | Exhibition/Installation | Habitat Workshop | Bloom |
| 4 | Exhibition/Installation | Re-a.d Architecture Design | Flat Surface, Underneath Movement |
| 5 | Exhibition/Installation | Urban Conga and Hive Public Space | Ribbon |
| 6 | Environmental Graphics + Branding | Architecture + Information | 175 Pearl Street |
| 7 | Environmental Graphics + Branding | Gensler | Confidential Client Office |
| 8 | Environmental Graphics + Branding | IA Interior Architects | Uber Headquarters |
| 9 | Environmental Graphics + Branding | Re-a.d Architecture Design | El Condor Coffee Shop |
| 10 | Kids' Zone | Andrew Franz Architect | Community Center, Union Settlement-Washington Houses |
| 11 | Kids' Zone | Barker Associates Architecture Office | City Kids Educational Center |
| 12 | Kids' Zone | Efficiency Lab for Architecture | Avenues Small World |
| 13 | Kids' Zone | Lubrano Ciavarra Architects | Student Lounge, Manhattan School of Music |
| 14 | Health + Wellness | Büro Koray Duman | S10 Training |
| 15 | Health + Wellness | Magnusson Architecture and Planning | East Clarke Place Senior Residence |
| 16 | Health + Wellness | Robert D. Henry Architects and Effegibi Perfect Wellness | QC Terme Spa |
| 17 | Outdoor Space | Bentel & Bentel Architects/Planners | Galileo Terroir |
| 18 | Outdoor Space | Bromley Caldari Architects | 101 West End Ave |
| 19 | Outdoor Space | MNLA and Heatherwick Studio | Little Island |
| 20 | Environmental Impact | Ciocchini Design | plugNYC |
| 21 | Environmental Impact | HLW | Schrödinger Office |
| 22 | Environmental Impact | Reddymade | Google Store |
| 23 | Environmental Impact | WXY Architecture + Urban Design and Center for Zero Waste Design | Put Waste to Work |
| 24 | Social Impact | Fogarty Finger | New Heights Youth |
| 25 | Social Impact | FXCollaborative | Covenant House New York |
NYCxDESIGN Awards 2022 Product Finalists
| wdt_ID | Category | Manufacturer Name | Product Name |
| --- | --- | --- | --- |
| 1 | Accessories | Fram Oslo | Rundkast |
| 2 | Accessories | Kin & Company | Drape Mirror |
| 3 | Accessories | Paola Lenti | Ebe Side Table |
| 4 | Accessories | Studio Seitz | Wall Mirror |
| 5 | Accessories | ZigZagZurich | K-Four |
| 6 | Tabletop | Blu Dot | Nosferatube |
| 7 | Tabletop | Bumki Song | Kiwa |
| 8 | Tabletop | Desz | Rosy Time |
| 9 | Tabletop | Georg Jensen | Sky |
| 10 | Architectural Products | Basalte | Plano |
| 11 | Architectural Products | Carvart | ModularWallClad |
| 12 | Architectural Products | Rimadesio | Maxi |
| 13 | Architectural Products | Turf Design | Arbor |
| 14 | Hardware | Accurate Lock & Hardware | Thom Filicia Collection |
| 15 | Hardware | Belwith Keeler | Bijou Collection |
| 16 | Hardware | Rocky Mountain Hardware | Oasis Collection |
| 17 | Hardware | Valli & Valli | H1067 Series Rose |
| 18 | Bath Faucets | Cooper & Graham | Aiades |
| 19 | Bath Faucets | Delta Faucet | Delta Trinsic Bath Collection |
| 20 | Bath Faucets | Kohler Co. | Statement Showering Collection |
| 21 | Bath Faucets | Lacava | Cigno 1583S.4 |
| 22 | Bath Sinks/Tubs | Cosentino | Dekton Gocce Shower Tray Collection |
| 23 | Bath Sinks/Tubs | Drummonds | Coln Tub |
| 24 | Bath Sinks/Tubs | Duravit | White Tulip Freestanding Washbasin |
| 25 | Bath Sinks/Tubs | Vitraform | Freestanding Rectangular |
NYCxDESIGN Awards 2022 Student Finalists
| wdt_ID | Student Name | College | Product Name |
| --- | --- | --- | --- |
| 1 | Gelila Assefa | Savannah College of Art and Design | Mesob |
| 2 | Nikki Bregman | Parsons School of Design, The New School | Waggle |
| 3 | Blanca Codina | Parsons School of Design, The New School | Gruyère |
| 4 | Utsavi Dalwadi | Parsons School of Design, The New School | Double O |
| 5 | Sadaf Farahanifar | Parsons School of Design, The New School | Twins |
| 6 | Ayla Gürsoy, Njål Thunold Hatteberg, and Taran Neckelmann | Institute of Design, University of Bergen | Skave |
| 7 | Felix Ho and Regena Reyes | School of Visual Arts | Frubo |
| 8 | Jiayan Li | Savannah College of Art and Design | The "Echo" |
| 9 | Lucia Sakakibara | New York School of Interior Design | Komorebi |
| 10 | Jessica Thies | Parsons School of Design, The New School | Energrow |