The Buzz: Designers Learn About Material Bank and Other NeoCon News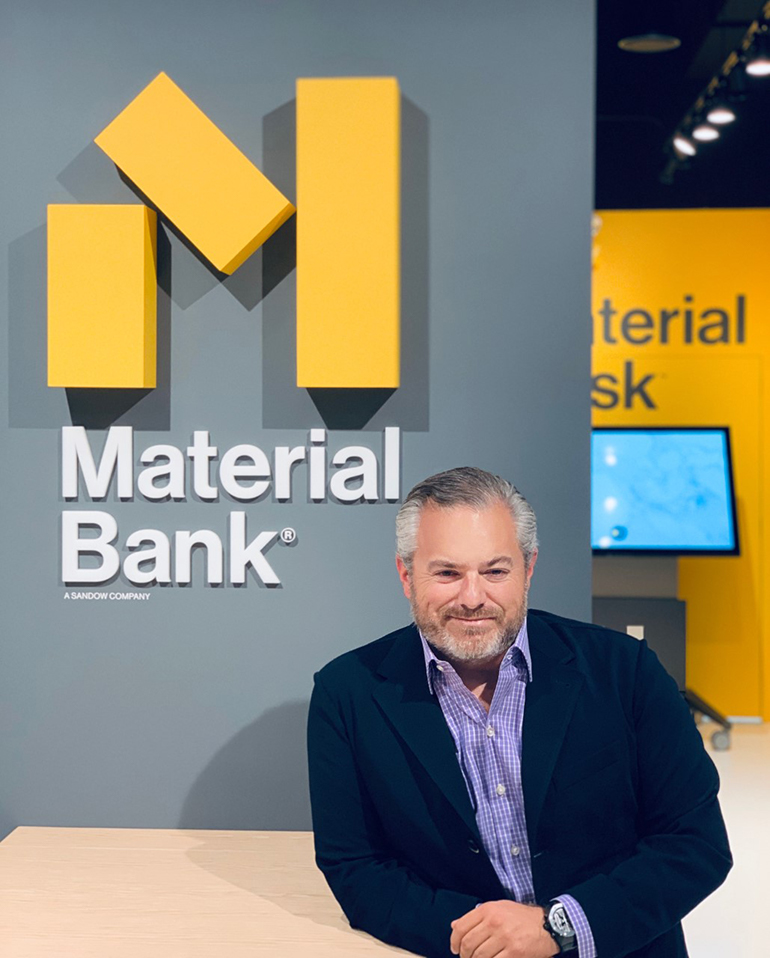 Designers Flock to Material Bank Debut Lecture Series
On Day 2 of NeoCon, Adam Sandow, CEO and founder of SANDOW, Interior Design's parent company, built upon the buzz within theMART about his innovative service, Material Bank. Making stops at showrooms for Artistic Tile and Benjamin Moore, Sandow debuted his brainchild to rooms full of designers eager to learn about the revolutionary platform. Material Bank opened its first permanent space, Material Bank Lab, on the first floor of theMART (#113) on June 9.
"Material Bank solves huge problems in our industry," said Sandow. "We know that designers spend a large portion of their day searching for materials for their products and that the sampling process is incredibly time-consuming and wasteful. And we also know that selecting materials is a physical experience and it will always remain that way—digital is never going to replace that experience."
To combat these issues, Sandow and the Material Bank team built an unprecedented new platform that allows designers to search across 150+ material manufacturers on a single platform, order samples with ultimate convenience (place an order by midnight EST and receive samples by 10:30 am the next day), and then get around the waste issue by allowing designers to send the unwanted samples back to Material Bank's Memphis, TN logistics hub. This service is completely free to design professionals and will remain that way.
Along with promoting the dynamics of Material Bank, Sandow also demonstrated several powerful and innovative tools available to designers through the service, including the interactive Material Desk™ and Smart Swatches™, both located within the Material Bank Lab at theMART.
Making stops at showrooms for Artistic Tile and Benjamin Moore, both founding partners of Material Bank, Sandow debuted his brainchild to rooms full of designers eager to learn about the revolutionary platform.
Bush Business Furniture Celebrates 60th Anniversary
Bush Business Furniture (BBF) marked its Diamond Year at its 10th-floor showroom at theMART during NeoCon 2019. Founded in 1959, the company specializes in hassle-free furniture specification and installation for both contract and residential office spaces. BFF is based in Jamestown, New York, where its primary U.S. manufacturing operations are also located.
When asked what the secret to their success was, Stephan Pettia, vice president at Bush Industries, attributed the firm's staying power to its flexible approach to the market. "Ten years ago, everything was still all about bricks and mortar, but we were starting to pick up rumblings of this e-commerce thing," he said. "We got into the e-commerce model before the boom and eventually transitioned the majority of our product over to online. That flexibility allows us to continue to offer everything we promise in our corporate mission statement: easy, fast, and affordable products and customer service."
9to5 Seating Fetes 15 Years in Business
At the brand's permanent 10th-floor showroom at theMART, 9to5 Seating celebrated 15 years of delivering ergonomic, expertly manufactured task chairs to the contract market. Founded in 2004, the Hawthorne, California-based brand attributed its quick rise to prominence to its vertical integration business model, which allows the company to have complete control over design, manufacturing, and distribution decisions. At NeoCon 2019, 9to5 Seating showcased its new Omnia chair, which takes aesthetic cues from both sculptural and organic forms.
When asked the secret to their success, Su Pak, director of marketing at 9to5 Seating, had this to say: "It's all about self-reliance. That is perhaps our most important company value. You can see that we really care about quality and accountability to our clients in our products and in the way we do business through the vertical-integration model."
> See Interior Design's complete coverage of NeoCon 2019
> Check out the 2019 HiP Awards winners and honorees
> Scroll through the best social posts from the NeoCon 2019 Sunday kick-off festivities