The Jean-Louis Deniot Collection by Baker Furniture
Jean-Louis Deniot is a designer lauded worldwide for his unexpected juxtapositions of vintage and modern, linear and curved, masculine and feminine; the quiet of a neo-classic tableau humming with touches of mid-century wit.

Deniot spent time making sure the furniture in the new Baker collection achieved appropriate balance and proportion, and is versatile to pair with contemporary, vintage or antique furnishings. Geometric shapes and curved silhouettes point to sculptural appeal, while the lighting and accessories blur the lines between artistry and furniture design. He attributes the inspiration behind his heady body of work based from his appreciation of fashion, art, architecture, nature, music and his global travels.
"I would call my Baker designs 'classic contemporary' or 'futuristic-classic'," said Deniot. "I was influenced by vintage furnishings of the 20th century and by the sense of presence in grand, aristocratic decors. But I still want my designs to have a relaxed side and a sexy elegance that makes them timeless."

An example of Deniot's bridging of design ideals include the dining table in an organic blend of rich wood, metal appointments and dramatic proportion. The commanding 110" table creates a space that is surely the room's focal point, taking center stage and accommodating the most elaborate of gatherings.

The ability to mix design genres is not lost on Deniot's expansive upholstered offerings. A discerning sofa draws its fresh look from 20th century design, yet has been updated to make it a chic contemporary alternative for the home. The sofa is expertly upholstered, a testament to Baker craftsmanship.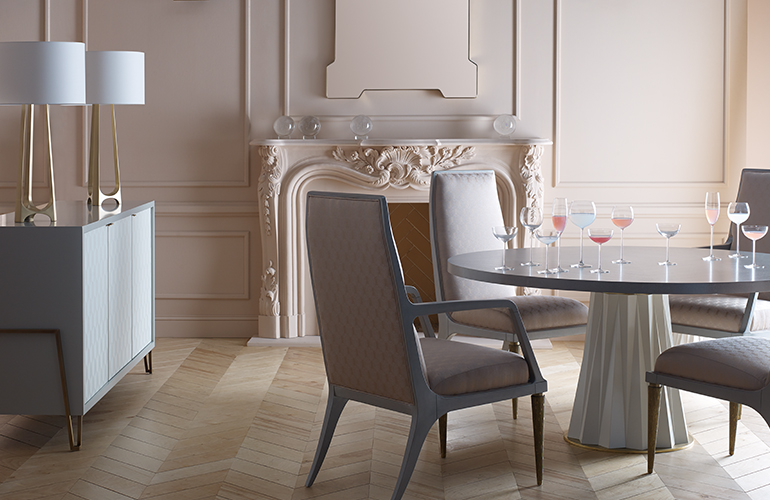 Like any great artist, Deniot has mastered the fundamentals and made the leap into his own joyful, unique aesthetic. He brings a rigorous intellect and intuitive love of light, line, touch, texture. Two years in the making, his collection for Baker redefines the word sublime.