These Designers Are Shaping the Future of Water
Water. It's the all-powerful source of life, and a necessity for human survival. Unfortunately, drinkable water on this planet is astonishingly limited—only 3% of all water on Earth is fresh and only 1% of that water is accessible through lakes, rivers, and reservoirs. As the global population rises, so does the need for innovative ideas to bring clean water to desperate peoples and educate the public about their impact on the world's water supply.
This is where Jane Withers comes in. Drawn to the aquatic from a young age, the design consultant and curator channels her love of water into thought-provoking projects. Over her career, Withers has launched exhibitions that bring awareness to water use in restaurants and the overall scarcity of water, among other sustainability-focused projects, all using the power of design. Her most recent venture, the Water Futures design challenge, was initiated in 2018 in partnership with A/D/O by Mini. Withers asked designers to rethink the current state of water with the prompt, "can designers solve the global drinking water crisis?"
"The fantastic opportunity here was taking time for something to evolve," Withers says. "It's really about galvanizing interest in a different water consciousness. It's about building conversations and making connections and opening possibilities."
Initially, over 2,000 designers from 30 countries submitted proposals. The jury narrowed the search down to nine finalists in three categories: Future Objects & Materials, Future Systems & Infrastructure, and Future Information & Communication. Each of the nine teams was paired with a mentor who helped develop their projects in preparation for the final exhibition. Projects addressed a range of issues, from plastic bottle waste to pollution. The resulting works seamlessly combine the pragmatic with the poetic.
"It's been really interesting to see how many people respond to re-understanding natural cycles and systems, natural materials, and organic materials," Withers says. "The sense of care for a water environment is what excites me."
The year-long research program culminated on April 4th at A/D/O's co-working space in Greenpoint, Brooklyn. Three winners received a prize of $15,000 and a chance to implement their ideas on a larger scale.
Read about the nine finalists' projects below, and vote for your favorite on A/D/O's site. The projects will be shown at A/D/O from April 5th through April 25th.
Waters by Clara Schweers: Winner, Future Objects and Materials
Clara Schweers's series of glass objects looks at water as poetry. Schweers incorporates water into her art by arranging drops of it in a circular mandala on a glass panel or dripping it through incredibly thin glass tubes. In this way, she reframes our perception of water as something omnipresent but invisible into something rare but very much real.
Indus by BIO-ID: Winner, Future Systems and Infrastructure
BIO-ID addressed the pollution problem of textile and jewelry manufacturing in India. Their clay tile uses an algae-laden hydrogel to purify water through the channels in its leaflike relief. Indus can be locally sourced and manufactured, maintaining a circular economy, and creates a visual impact that encourages community engagement.
The Water Runs Through Us by Katherine Ball: Winner, Future Information and Communication
The water surrounding Manhattan is known for its fetidness, despite its position as a natural resource. Between pollution and other hazards, the Hudson and East Rivers are the last place any New Yorker would want to swim. For her project, Katherine Ball proposed an above-ground aqueduct that would purify and transport water from the Bushwick Inlet to A/D/O, eventually depositing it into a bathtub that visitors are welcome to take a dip in.
Filtering Glass Straw by Ulysse Martel
A pair of glass tubes with a natural filtering cartridge can be used in an emergency to purify water.
Hy-O Cup by Crème
Gourd cups! These compostable cups are made from gourds that are grown around 3D-printed molds, and they could potentially be mass-produced in indoor farms.
Read more: 10 Questions with… Crème's Jun Aizaki
Opacify by Post Carbon Lab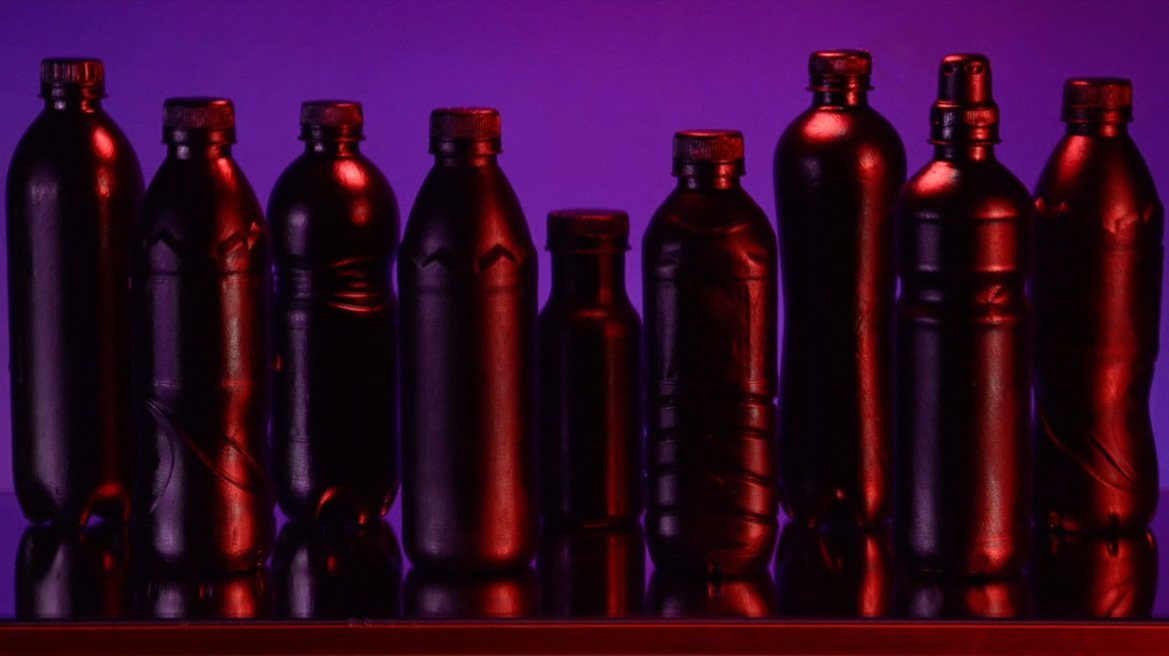 Using clever design in packaging is one approach to consumer awareness. Post Carbon Lab chose to block out information from plastic water bottles, obscuring information that would typically be transparent and dissuading consumer interest.
Water Everywhere by Assemble Mass
Assemble Mass's large-scale solar stills offer a way to desalinate seawater using aluminum, an abundant natural resource. The system is scalable, making it easy to install along a range of waterfronts and beachfronts around the globe.
RARE by G2G™
What would it look like to recycle wastewater in the home? In a series of fictional newscasts and interviews, RARE imagines the normalization of a closed loop water use system.
Water Map by Only If
How does New York bring water to its millions of inhabitants? Only If answered this question with an educational campaign that lays out the aquatic infrastructure of New York, revealing the physical presence of a resource that all New Yorkers have a vested interest in knowing and protecting.
Read more: Only If Architecture Redefines the Coffee House at City of Saints Coffee Roasters Bryant Park Cafe