This Built America Profiles Mosaics Maker New Ravenna
Houndstooth Pink Purple tile by New Ravenna.
Located along Virginia's Eastern Shore, Exmore is a small town of just over 1,000 people that has seen its share of hard times in recent years. Sara Baldwin, who grew up nearby, and her company, New Ravenna , are a subject of This Built America , a new multimedia platform from AOL exploring the companies and people reimagining American manufacturing. Other recent subjects have included Detroit-based design darling Shinola and lesser-known Bear & Son Cutlery in Jacksonville, Alabama.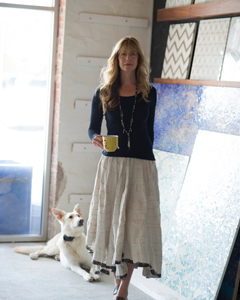 Photo by Stewart Ferebee.
Over the last two decades, Baldwin has turned her thriving mosaics business into a catalyst for change in Exmore, transforming once abandoned buildings into hubs of creative activity and bringing nearly 120 much-needed jobs to the local community. Baldwin's success story started in an unlikely place—her parents' living room. After teaching art in New Orleans, she returned home in 1992 to be closer to family and pursue her passion for creating beautiful surfaces out of tiny pieces of glass and stone, naming her new company after the Italian city renown for its ancient mosaics.
More than twenty years on, as CEO and Creative Director, Baldwin leaves the bulk of the design process to her team, though she still draws inspiration from her "travels, sunsets, wavy patterns in the sand, pine bark, fractal geometry, even fairy dust," she says. "I sometimes design things myself, but usually I function like a master editor. We have a very collaborative beehive atmosphere."
With clients including Robert DeNiro, Taylor Swift, Princess Margaret, and the Kardashians, and major projects at the State Senate in Maryland, the Ferry Building in San Francisco, and the Mandarin Hotel in Washington D.C., Baldwin has proven there's a place for this ancient art in small town America. Baldwin has even done the floors for the award-winning Ristorante Tosca at Castello di Casole Resort in Italy, bringing the artistic journey full-circle back to the place that inspired her.
Through the year, This Built America will explore 50 states in 50 weeks to bring 50 stories of the people who—like Baldwin—are bringing back manufacturing to America.
Loom tile by New Ravenna.
Mist shower tile by New Ravenna.