ThreeASFOUR Explores Fashion at Jewish Museum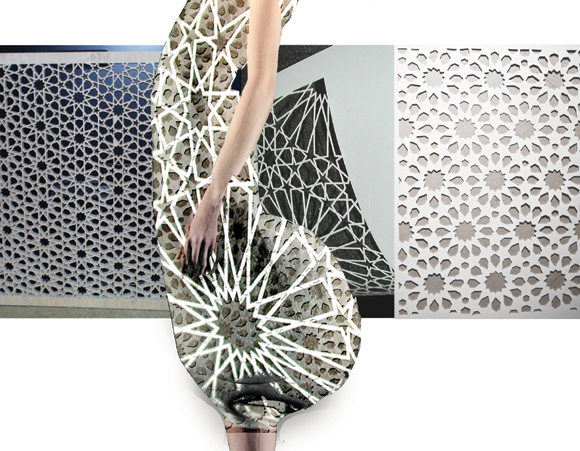 ThreeASFOUR's rendering of laser-cut dress for MER KA BA, 2013; © threeASFOUR


The

Jewish Museum

will unveil a new multimedia installation by the avant-garde design group

threeASFOUR

on September 15, presented in collaboration with the

Art Production Fund NY

. The installation, titled

MER KA BA

, explores themes of spirituality and cross-cultural unity through the lenses of conceptual fashion, architecture, and video.
Inspired by the symbolism of geometry and the tile formations found in mosques, synagogues, and churches, the designers use contemporary technology to bring ancient symbols into the now.

MER KA BA

features collaborations with architect

Bradley Rothenberg

,

Studio Christian Wassmann

, and 3-D animation designer

Alex Czetwertynski

.
Cross-cultural harmony also has a voice. Since the installation's title pulls from words

Merkaba

,

Muraqaba

,

Kabaa

—and the hieroglyphs

mer

,

ka

, and

ba

—it combines concepts from Judaism, Islam, Sufism, ancient Egypt, and contemporary New Age spirituality.
Claudia Gould, museum director, says, "I am a great admirer of threeASFOUR's poetic and socially conscious approach to fashion. Their multimedia exhibition at The Jewish Museum, fusing couture, architecture, and video projections, evokes the designers' desire for cross-cultural unity."
ThreeASFOUR founded the fashion label originally called ASFOUR in 1998, and have since focused on creating works of conceptual and cerebral value, rather than of commercial value. Often referred to in the media as experimental, poetic, and visionary designers, their work has been exhibited in museums around the world, and features in permanent collections at the Victoria and Albert Museum in London and the Metropolitan Museum of Art in New York. Hailing from Lebanon, Israel, and Tajikistan, the members of the group, Gabriel Asfour, Adi Gil, and Angela Donhauser, came of age in times and places of war and social discord. They credit their diverse backgrounds and cultural upbringings for the focus on cultural unity and harmony in their work.