Tile Tales: NYC Interior Designer Reveals Tile Sourcing Secrets
When NYC-based interior designer Alexander Davenport needed a specific porcelain tile for an upcoming client meeting, he didn't bother opening a swatchbook—he opened a laptop. "I visit Highstyle Stone & Tile's website at least twice a week," he admits.
A leading importer of stone, porcelain and ceramic tiles, Highstyle Stone & Tile recently launched an updated website that promises to revolutionize the way designers like Alexander Davenport go about finding inspiration and choosing tiles for projects.

"The Highstyle website makes my job simpler," says Davenport. "Besides showcasing a global collection of tiles, I can create personalized folders for my many projects and drop different tile inspirations into each folder. It's like a free filing cabinet for my tile decorating ideas."

One of the most helpful tools in this new website is the Matchbox. Designers can accurately match up tile colors or textures with the in-stock offerings available. They can see if tile designs shown in global magazines or blogs are actually available in the local marketplace, before suggesting it to a client or using it in a design.

Another website feature, Samples Basket, acts as a real-time tool for ordering free tile samples at the click of a button. Rush samples can be requested online and, in certain circumstances, will be sent over in a matter of hours.

Above all, Highstyle Stone & Tile's impressive collections, exclusive distribution rights for Italy's most famous manufacturers & quarries, and talented team of friendly customer service professionals, help interior designers bring creative ideas to life.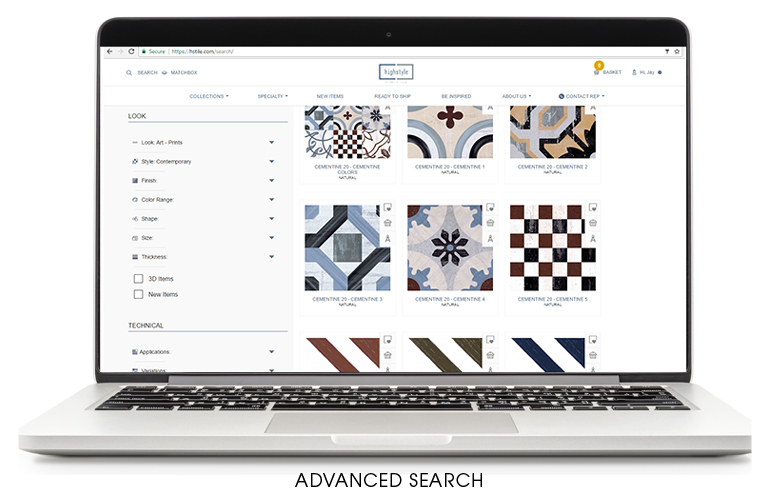 Want to see the Highstyle Stone & Tile website in action? Enjoy a free online spin today!