Top 10 Interior Design Stories of 2020
From TikTok's stateside HQ to design trends of a post-COVID workplace, here are Interior Design's top 10 stories of 2020.
1. TikTok Arrives Stateside in a Gensler-Designed Los Angeles Headquarters
Gensler's vibrant design of the company's first American headquarters is housed in a Gensler-designed building in the Culver City sector of Los Angeles. TikTok comes stateside on three floors that incorporate two additional mezzanines to total 120,000 square feet. Naturally, a sense of movement, intrinsic to TikTok's culture, pervades.
2. Legendary French Minimalist Designer Christian Liaigre Dies at 77
The iconic French interior designer and entrepreneur Christian Liaigre died on September 2. He was 77 years old. Born in La Rochelle, a small coastal town in the West of France, the Interior Design Hall-of-Famer honed his skills at the Beaux Art and then at the Arts Décoratifs. Simple, sincere, and fluid lines became a common theme of Liaigre's designs, letting the beauty and balance of a piece speak for itself.
3. Four Design Trends of a Post-COVID Workplace
Since COVID-19 became part of our everyday vernacular, the ThinkLab team has been working behind the scenes to track the metrics of how the virus is affecting the interiors industry. And while our data indicates that we are still struggling through the economic effects of the pandemic, we continue to celebrate the optimism and resiliency of the design industry as it moves forward by helping clients imagine positive change.
Pale shades that hearken back to one's nursery room wallcovering and to the petit fours of afternoon tea aren't just sweet anymore. They're also trending: in eyeshadow shades, loungewear, and, of course, interiors.
5. 15 Product Highlights from KBIS 2020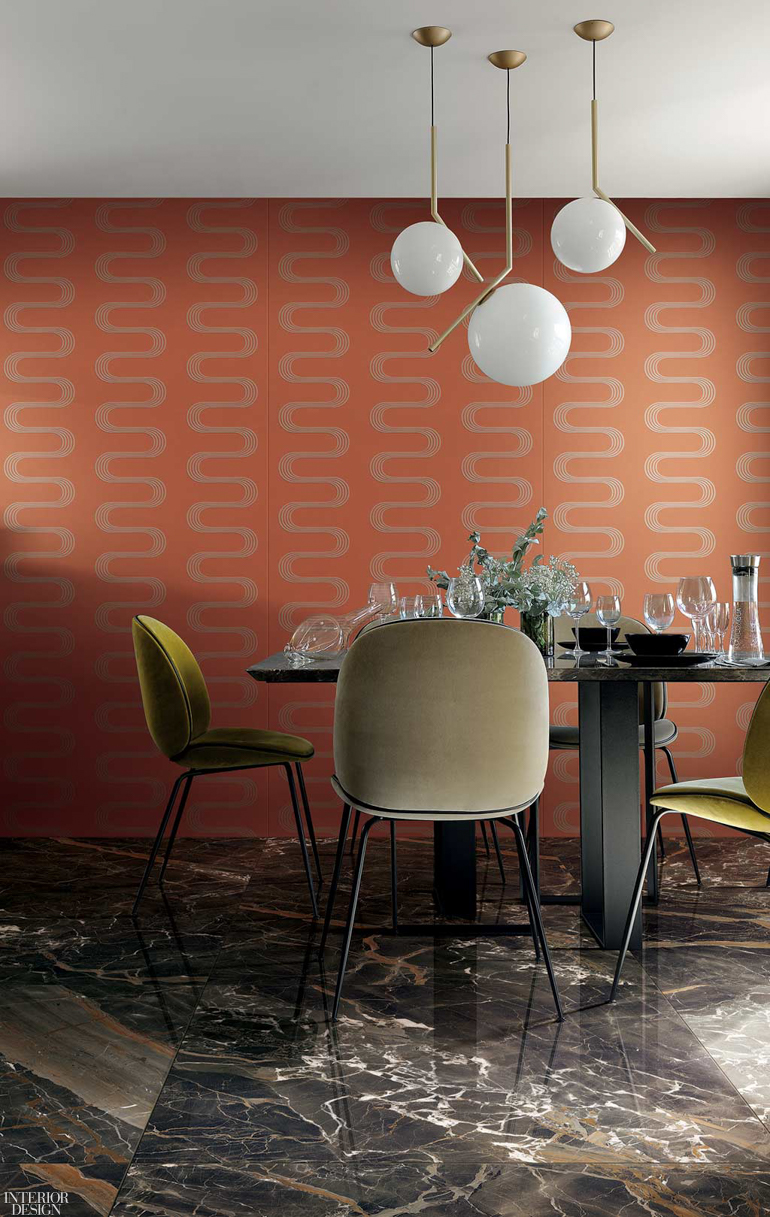 The latest product launches from more than 600 leading brands were on display at KBIS, North America's largest trade show devoted to kitchen and bath design, which took place in Las Vegas just before global lockdowns. Trends ranging from customizable faucets and bold-hued appliances to ceramic innovations and smart technology drew more than 31,000 attendees, including interior designers, architects, contractors, and manufacturers.
6. Seven African American Designers on How They're Pushing The Design Industry Forward
We sat down with seven architects and interior designers to talk about their achievements, struggles, what's changing, and the work ahead for all of us.
7. Russian Aeronautics and Space Travel Set the Theme at Moscow's Cafe Polet by Asthetíque
Located just outside Moscow, Khodynka Field is where Russian aviation was born. The nation's first powered aircraft took off there in 1910 and the large open space became Khodynka Aerodrome. Although the airport, which functioned under various names during the 20th century, closed down sometime after the dissolution of the Soviet Union, its legacy lives on. And now a nearby restaurant by Asthetíque pays homage to the area's aeronautical heritage.
8. Designers Share Strategies for the New Normal
At the onset of the COVID-19 pandemic, Interior Design sprang into action, gathering perspectives about the current state of work, life, and the broader design business from the A&D community in a series of global dispatches. This one, which features voices from Hong Kong, Paris, and U.S. cities, ranked among our top posts of the year.
9. 22 Influential Female Designers and Their Recent Projects
March 8 may be International Women's Day, but female designers are busy at work all year long. We celebrated the day by highlighting 22 recent projects designed by women.
10. 10 Staircases That Bring the Drama
Nothing makes a statement in the home quite like a staircase. These 10 stairways take design to the next level.