Trend of the Week: Cindy Says… Gonna Go Round in Circles!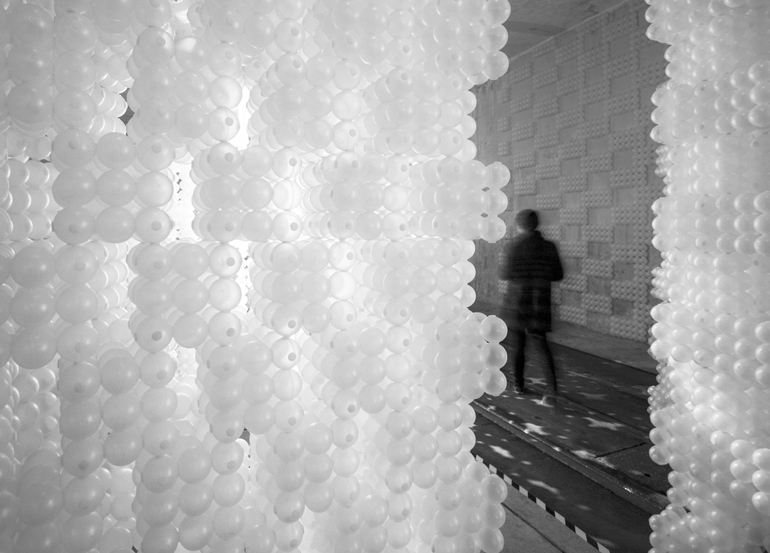 A CIRCULAR SENSATION! It's edgy without the edges. The circle symbolizes unity, community, completion… and a hug! Whether flat, round, or bulbous, the circle is popping up in all times of artistic endeavors, from installations, to ceiling architectures, to voluminous lighting treatments, and even handmade textile art. Come full circle with me, Cindy Allen, to explore… (and for more, check out my Instagram, @thecindygram).
1. HOLLYWOOD REELS: Imagine one of the most innovative and untraditional movie theaters around… One Plus Partnership has established themselves as the go-to firm for making just that. Yet, for this 2017 Best of Year honoree, Wuhan Wushang Mall Cinema, the classic days of old movie theaters play a huge role. The designers created a sea of large, 2.8-meter round plates to fill the ceiling. Reminiscent of the old Hollywood film reels… it's ready for its close up. Photography by Jiangnan Photography.
2. 99 ORANGE BALLOONS: Loving Jihan Zencirli of Geronimo Balloons and her amazing, architectural ball installations that lift the spirit and make you wanna dance a jig (especially considering she just finished an installation series with the New York City Ballet). Photography courtesy of Geronimo Balloons.
3. WONDER-WHEELS: Here is Best of Year 2012 Cafeteria Winner, Der Spiegel Canteen in Hamburg, Germany, by my good friends Ippolito Fleitz Group—a timeless renovation of the 1969 Verner Panton cafeteria left behind when Der Spiegel Magazine relocated. Inspired by the word "spiegel," which is German for "looking glass," Ippolito Fleitz played with an "Alice in Wonderland" theme, covering the ceiling in shimmering, aluminum mirror discs—4,230 of them! A magical moment for cafeteria-style dining. Photography by Zooey Braun.
4. FIBER DISCS: Sheila Hicks is known for her work with bright colors and woven textiles. Here is Satellite, textile fiber on a wooden disc. Photography courtesy of Sikkema Jenkins Gallery.
5. THE MAKING OF RE-BALL: A new series, because don't we all love an insider's peek at how design happens?! Raise/Raze, a temporary installation in Washington by Hou de Sousa who reused translucent polyethylene spheres from Snarkitecture who designed Beach, originally exhibited at the city's National Building Museum. Photography courtesy of Hou de Sousa and Martin Studio Photography.
6. FIVE ROUND FAVES: A "Favorites" series to share and inspire from all the goodies we publish. Here it goes with circles, rounds, and discs! Color Wheel by Max Bill for Metrocs; Golem by Barberini & Gunnell (wielded spheres of polished stainless steel); Elodie Blanchard's Dot Grid fabric by HBF; Revolta by Esteluz; and Mirror, Mirror, for Dita and Oliva. GO FORTH AND DESIGN!