TRI-KES, Source One, Versa Achieve Wallcoverings Association's New NSF/ANSI 342 Sustainable Certficication
The writing's on the wall: sustainability is a must. Marking an important achievement for the

Wallcoverings Association (WA)

,

TRI-KES

's latest wall coverings (Floating Squares, Stitched Leather, and Vallejo) are the first in a range of products offered through

Source One

and

Versa

to meet WA's new NSF/ANSI 342 Sustainability Certified standard.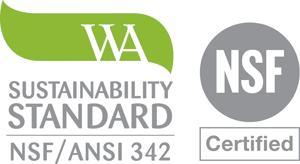 "NSF 342 is the first standard in the world requiring a distributor

and

manufacturer to qualify in order to certify product," says TRI-KES president Ken Salyer, Jr. The product must meet six benchmarks: product design, manufacturing, long-term value, end-of-life management, corporate governance and innovation.
"The beauty behind this," continues Salyer, "is our partnerships drive continual improvement in environmental sustainability and social responsibility, ensuring transparency through the entire supply chain."
WA launched NSF/ANSI 342 last year and expects that it will reach a very high adoption rate in the industry. The standard will be a hot topic at the

annual WA conference

from January 26-29 in Clearwater Beach, Florida.