Virtual Reality Enhances Architecture & Design Film Festival
The festival's Opening Night Film, The Infinite Happiness , is directed by Ila Bêka and Louise Lemoine (about Bjarke Ingels' radical 8 House project in Copenhagen).
From October 14-18, New York City welcomes the return of the Architecture & Design Film Festival for a seventh year. 2015's ADFF will feature the kind of programming that has made the festival the nation's largest of its kind, with over 30 films including portraits of Sir Ove Arup and Henne Larsen and documentaries the bold architecture of and the fall (and potential rise) of Philip Johnson's New York State Pavilion for the 1964/65 World's Fair.
It's not only history lessens, though: this year, the ADFF launches itself into the future with four virtual reality experiences, all free and curated by the festival in collaboration with the Azimyth Creation Studio , at the festival's new location in Chelsea. "Moving there gives us the opportunity to really expand the festival experience including an immersive lounge where people can strap on a headset and be transported to a new reality," says ADFF founder and director Kyle Bergman.
That Azimyth Immersive Lounge will allow attendees to try out new gizmos like Trimble and Microsoft HoloLens, along with more established like Google Cardboard and Oculus Rift. Relaxing in Natuzzi's Re-Vive reclines, viewers can then explore W57 , an look at BIG's pyramidal wonder on NYC's west side; The Digital Gyre , a collaboration between PARC Office, FarzinFarzin, and IrisVR, which examines the uses and meanings of design detritus; Makoko Life , a journey by canoe to Kunlé Adeyemi's Makoko Floating School in Lagos, Nigeria; and the Arup SoundLab, which shows off the titular sound design tool using 3D Ambisonic Sound and Head Mounted Displays.
The Silver Screen is still the focus, though. "The festival is loaded with great films," Bergman says, "ranging from Bjarke Ingles' 8 House in Copenhagen to David Adjaye's work with artists to a touching film about a family of architects called Concrete Love." Screenings take place at the Bow Tie Chelsea Cinemas and SVA Theatre; find details here .
Film still from David Adjaye—Collaborations directed by Oliver Hardt (Pictured: Dirty House by Adjaye Associates).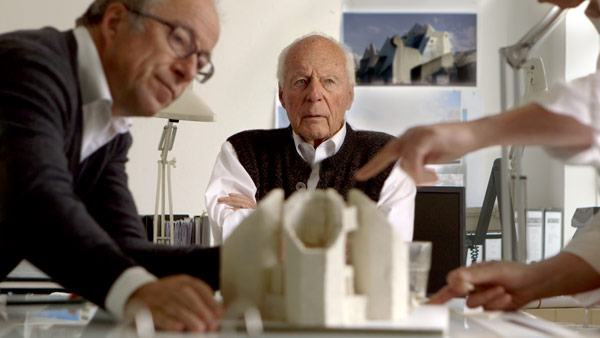 Film still from Concrete Love directed by Maurizius Staerkle Drux about the family of Gottfried Böhm.