Vitra Brings Limited-Edition Maharam Sofa to U.S.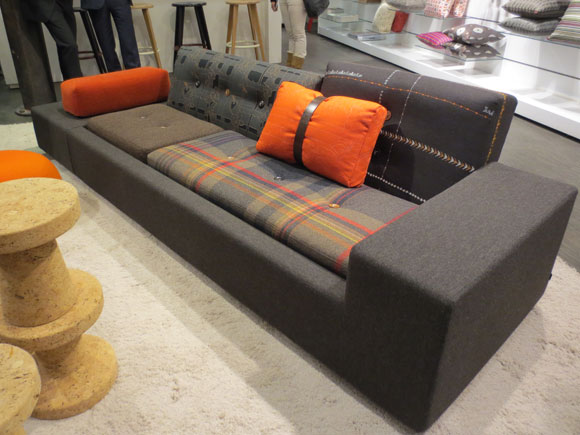 The Maharam Polder sofa designed by Hella Jongerius in 2012.
After previewing in Milan last year, the special edition of Hella Jongerius ' 2005 Polder sofa for Vitra finally made its stateside debut last week at Vitra's New York showroom, which is the exclusive U.S. distributor. One hundred Polder sofas are upholstered in a patchwork of new textiles by Maharam , but only nine are available to the U.S. market.
"Vitra has been a longtime collaborator with Maharam," says Cliff Rullow, director of Vitra Home in North America. "Our head of design was contacted by Maharam to develop this sofa. It shows the competency of Maharam and the interest of the fabrics together, creating something that's unique and different."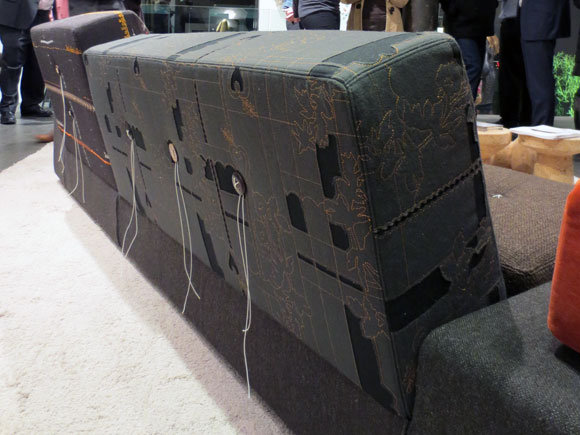 Layers by Hella Jongerius for Maharam, a wool-nylon blend applied to the back of Vitra's Polder sofa.
To create the sofa's varied topography, Jongerius combined six textiles, including those from her own embroidered Layers and Borders collections for Maharam. The piece also highlights Exaggerated Plaid, Paul Smith's modern take on traditional Scottish plaid, and classic wool fabric from Maharam Design Studio and Kvadrat , a Maharam partner since 2001.
The sofa is accessorized with a custom Bovist stool, Jongerius's 2005 pouf, in matching colors and with a belted Queen's cushion, which was originally designed for a Polder commissioned by the Netherlands' Queen Beatrix. Jongerius named her original 2005 Polder after the polders and dikes—tracts of low-lying land and protective levees—that have kept the Dutch above water since the 12th century.