Volvér Restaurant Slated for Kimmel Center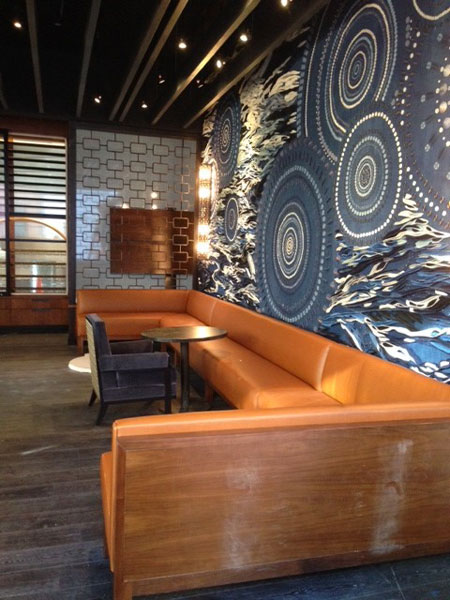 Volvér is slated to open in Philadelphia's Kimmel Center in April. Photography courtesy of Marguerite Rodgers Interior Design.




"This is a performance space, so I should perform," chef Jose Garces told Anne Ewers, president and CEO of Philadelphia's

Kimmel Center

for the performing arts when the two began planning Garces' restaurant within. The result:

Volvér

, expected to open in April as a a part champagne-caviar lounge, part 40-seat tasting room with an open kitchen at street level and a floor that extends four-feet over the sidewalk.


KieranTimberlake

, the firm responsible for the Kimmel Center master plan since 2009, worked with

Marguerite Rodgers Interior Design

to minimize boundaries between the life of the center and the life of the city. Think floor-to-ceiling windows and natural light entering from the Kimmel's skylit foyer.

"There's a lot of peek-a-boo," says principal Marguerite Rodgers, referring to elements like different seating for different areas, and the a screen in laminated

Bendheim

glass that offers arriving guests a glimpse of the bar, in wire-brushed vein-cut limestone with a saddle leather front by

CSI Designs

(it's almost, but not quite, complete).

A textile mural by Conrad Booker hangs in the front room. Inspired by the restaurant logo (overlapping blue circles) the artist spent one year hand-fusing, dying, cutting and stitching 200 yards of burlap and 4,000 fiber buttons to create the 10-by-20-foot piece, one of seven art installations.

Playing off the restaurant's location, Garces has a literal stage: a marble-top plating area illuminated by lights from the plate shelves above. Every guest will have a tableside view. Volvér, says Ewers, is the art of cuisine in a performing art space.