What to Collect Now: Nicos Zographos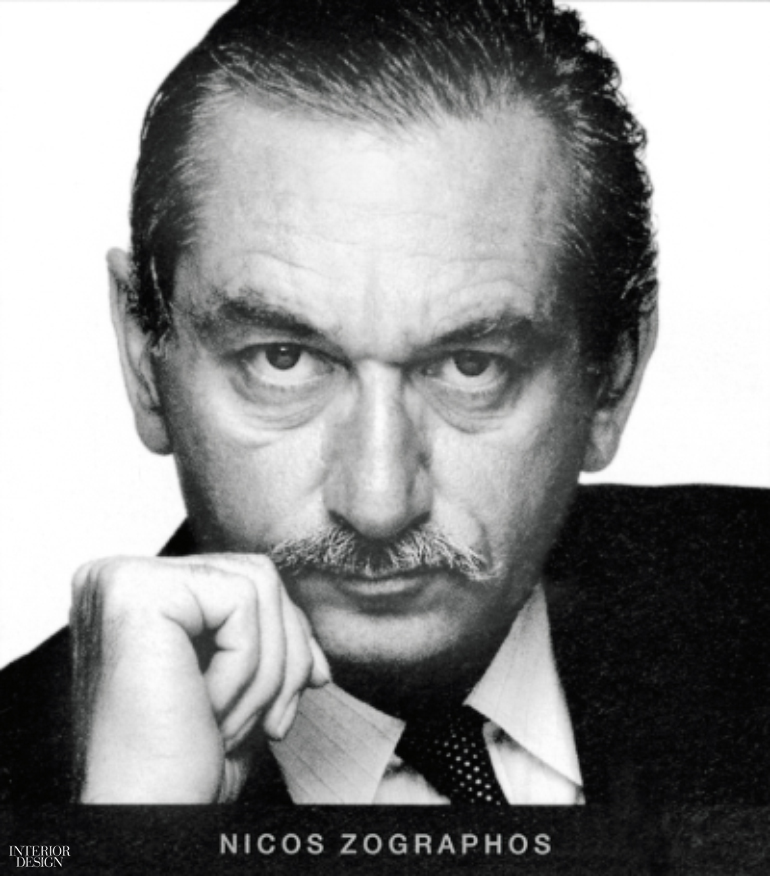 The Greek-born industrial designer Nicos Zographos is hardly a household name despite that his furnishings have graced interiors by I.M. Pei and Gordon Bunshaft. Yet his New York–based company, Zographos Designs Limited, founded in 1964, only recently shuttered after a remarkable run manufacturing luxuriously minimalist, abstractly sculptural furniture to exacting standards of craftsmanship. (Zographos, now retired, resides in a sun-drenched apartment he designed in Athens.) Among American designer/entrepreneurs, only Harvey Probber and Jens Risom enjoyed similar longevity and commercial viability.
Signature Designs
Zographos Designs hit the ground running courtesy of its namesake's formative stint in the interior design department at Skidmore, Owings & Merrill, which he joined in 1957, a year after completing his graduate degree at University of Iowa. The creative freedom Zographos earned at SOM—working on projects such as the Union Carbide Corporation building and the Albright-Knox Art Gallery—resulted in two original designs that won immediate critical acclaim. Both were rendered in stainless steel and leather: the fluidly linear Ribbon chair of 1959, a Barcelona chair update distinguished by a continuous cushion and pinched support structure; and the Alpha bucket chair of 1960, featuring a petal base with graceful reverse curl—a Zographos signature. That same year, he upended the rigid geometries of SOM with the gentle curves and ultra-slim stainless-steel legs of his TA35 low table. These three works formed the building blocks of the Zographos Designs collection, as he adapted the substructures into families of products that encompassed stools, benches, tables, and desks in varied formats and materials.
Over the decades, the resolute perfectionist would create 60-some discrete designs for his brand, often derived from the residential and commercial commissions he continued to take on—including homes throughout the Northeast and in Greece and projects for iconic art director George Lois and photographer Carl Fischer. Many underwent a process of refinement, revision, and variation, allowing the Zographos catalog to eventually offer more than 100 products. Highlights include his first carved-wood chair, Ireland; a pristine vitrine in steel, glass, and marble; and the Saronis wooden tables, designed for his father's house in Greece. Also iconic are two tubular-steel cantilevered chairs: CH66, selected for the permanent collection at the Museum of Modern Art, and the chunkier CH17.
The Market
The Zographos oeuvre is presently undervalued and underrepresented. Only a few examples have hit the auction block at Wright in the past few years. Rago and Skinner occasionally handle Zographos, but no examples have turned up at Sotheby's, Christie's, or Phillips. And while Zographos has begun to infiltrate top-tier online platforms such as 1stdibs, Decaso, and InCollect, the offerings tend to cluster around a handful of the more familiar designs.
Prices are still relatively modest for work of this palpable quality: $2,000 for a TA35 series marble-top low table, around $1,000 for an Alpha bucket chair, and $12,000 for a customized conference table with massive maple slab atop three brass Alpha bases. A superb brass-and-leather Alpha bench is live on 1stdibs for $6,800. But bigger bargains can be had on mid-market platforms such as eBay and, if you are determined and decisive, at local auctions. As of this writing, a set of six Ireland chairs on Chairish is priced at $980.
The Verdict
Nicos Zographos is a modern master ripe for rediscovery—or just plain discovery. Many of his pieces could still be sitting in their original commercial or residential projects; others might be languishing in used furniture stores or misattributed online to designers like Ward Bennett or Milo Baughman. There is still time to collect before the top venues scoop up the best pieces; the definitive guide to his work, The Design Art of Nicos Zographos, published by Monacelli Press in 2000, offers a complete survey. Look for bronze bases, nicely figured marble or stone tops, and custom pieces in general—and for the 1966 Alpha stool, a personal favorite of the designer's.
> See more from the Winter 2018 issue of Interior Design Homes