Where Are They Now: Hall of Fame Icons
Being a member of the Interior Design Hall of Fame is undeniably a distinction worth having. Over its 28-year history, the magazine has honored many of the industry's most recognizable names, creating a virtual who's who list of talent that has left a lasting mark on office buildings, hotels, restaurants and residences from Paris to Palm Beach.
In early December, the magazine inducted the latest members into its Hall of Fame during its yearly gala at New York's Waldorf-Astoria Hotel . From its beginnings in 1985, when then Interior Design publisher Lester Dundes first called the design industry together to celebrate its most innovative individuals by inducting its initial 10 members, the Hall of Fame has grown to comprise 214 Members and 36 Special Honorees. Design luminaries honored over the years have included Frank Gehry, Charles Gwathmey, Thierry W. Despont, Philippe Starck, Christian Liaigre, Melanie Kahane, Mario Buatta, Adam Tihany, David Rockwell and Shigeru Ban.
The Hall of Fame celebration, which has grown in attendance from 700 to 1,200 guests, celebrates interior and industrial designers and architects whose body of work has had a lasting influence on the industry – and on the world. Each year, nominating ballots are sent out to all living Hall of Fame members by Interior Design editor-in-chief Cindy Allen, who instructs them to consider "global reach" when nominating an industry member. Allen then reviews the submissions and makes the final call. Allen is also the co-host of the Hall of Fame gala with Mark Strauss, vice president of Interior Design Media.
To recognize four decades of exceptional honorees, Interior Design launches its first-ever Where Are They Now series by revisiting four prominent past Hall of Fame inductees, asking them key questions about their careers, and highlighting their work visually. In an attempt to capture each decade of the Interior Design Hall of Fame, we present:
Paris-based interior designer Andrée Putman (inducted in the 1980s).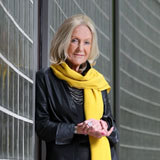 Czech-born, London-based architect Eva Jiricna (inducted in the 1990s).
New York-based interior designer Bruce Bierman (inducted in 2000).
Los Angeles-based architect Neil Denari (inducted in 2010).
2012 Hall of Fame: Behind the Scenes Video