Wight & Company's Will County Justice Center Aims to Bring Federal Building Architecture into the New Age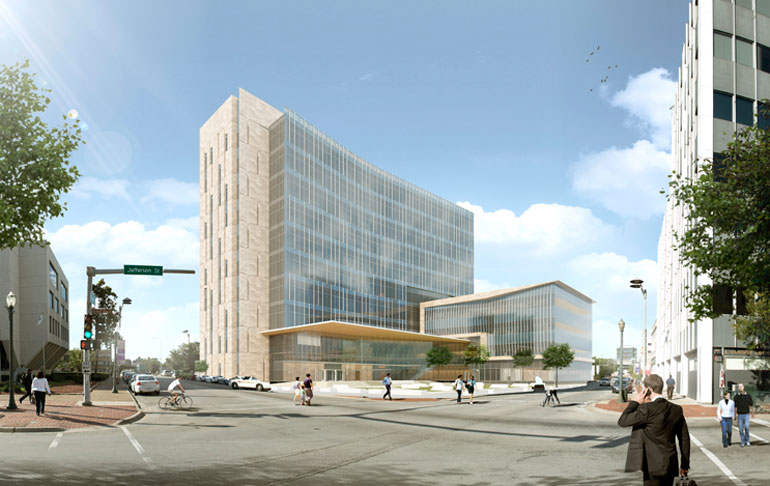 Redesigning a community staple like Will County's Justice Center in Joliet, Illinois can have a domino effect on the redevelopment of a downtown city center. Joliet, an industrial town southwest of Chicago, hopes that their new-build Justice Center project will do just that.
Chicago-based firm Wight & Company has been given the green light to replace an adjacent facility's bleak structure with a sleek building that is both inviting and modern. Leading the project, which will break ground in the spring of 2018, are renowned architect and newly appointed principal Dirk Lohan, and EVP and director of design at the firm, Kevin Havens. "This project is about transparency and access to justice invoked by a contemporary and architecturally captivating building that will become a catalyst for Joliet's downtown development, as well as a symbol of civic pride," Havens says.
The project team will incorporate new courtroom technologies, energy management initiatives, several high security elements necessary to run a contemporary justice building, and sustainable design elements like vegetated roofs all while maintaining an air of simplicity and clarity in its design and function. The proposed plans account for 38 courtrooms; a law library; a self-help legal center; and states attorney, court agency, public defender, satellite probation and administrative offices.
"One of the primary objectives of this new Justice Center is to restore the original place of the courthouse in modern society, focusing on creating a positive connection between citizens and the principle of open access to justice. We envision this new Will County Justice Center will communicate innovation, dignity and the notion of effective service to the entire community," explains Havens.