Design Advice from the Winners of Gensler's Don Brinkmann Award
Motorola Mobility, Chicago, 2014. Photography by Eric Laignel.
In 2000, Gensler instituted the Don Brinkmann Award, bestowed annually (or thereabouts) to a staff member whose exemplary talent, leadership, and vision deserves recognition. The award is named for the late Interior Design Hall of Famer and firm vice president, whose classic-contemporary spaces and talent-nurturing disposition inspired many generations of designers. Those chosen by the board of directors are given the accolade at the principals' meeting. We asked recipients to share their most important wisdom about design.
"For me, words set design in motion: I start my creative process by writing a story, a narrative to guide the design from beginning to end." —Jeff Henry, San Franciso 2015 awardee
"I always tell my design students to learn history. It's hard to go forward if you don't know what came before. Education is at the root of everything that's possible." —Carlos Martínez, New York 2011 awardee
Capital Bank, Miami, 1988. Photography by Nick Merrick.
"Keep the ideas simple." —Mark Morton, New York 2006 awardee
"Edit design ideas. Save some for your next projects." —David Epstein, New York 2014 awardee
"Listen first." —Kap Malik, Los Angeles 2012 awardee
New York Times headquarters, 2007. Photography by Nic Lehoux.
"Art Gensler once told me, 'Stop thinking like an architect and start thinking like a problem solver.' We all graduate from design school under the influence of programs that promote allegiance to one polemic or another, sometimes at the expense of teaching zealous problem solving. Art's advice is to think about things in the most untethered way possible." —Steve Wendell, San Francisco 2013 awardee
"If you believe strongly that something you proposed or created is right for the project yet the client is not sold on it, keep bringing it back—and don't give up!" —Ed Wood, New York 2009 awardee
"Great projects aren't handed to you; you make them happen." —Collin Burry, San Francisco 2008 awardee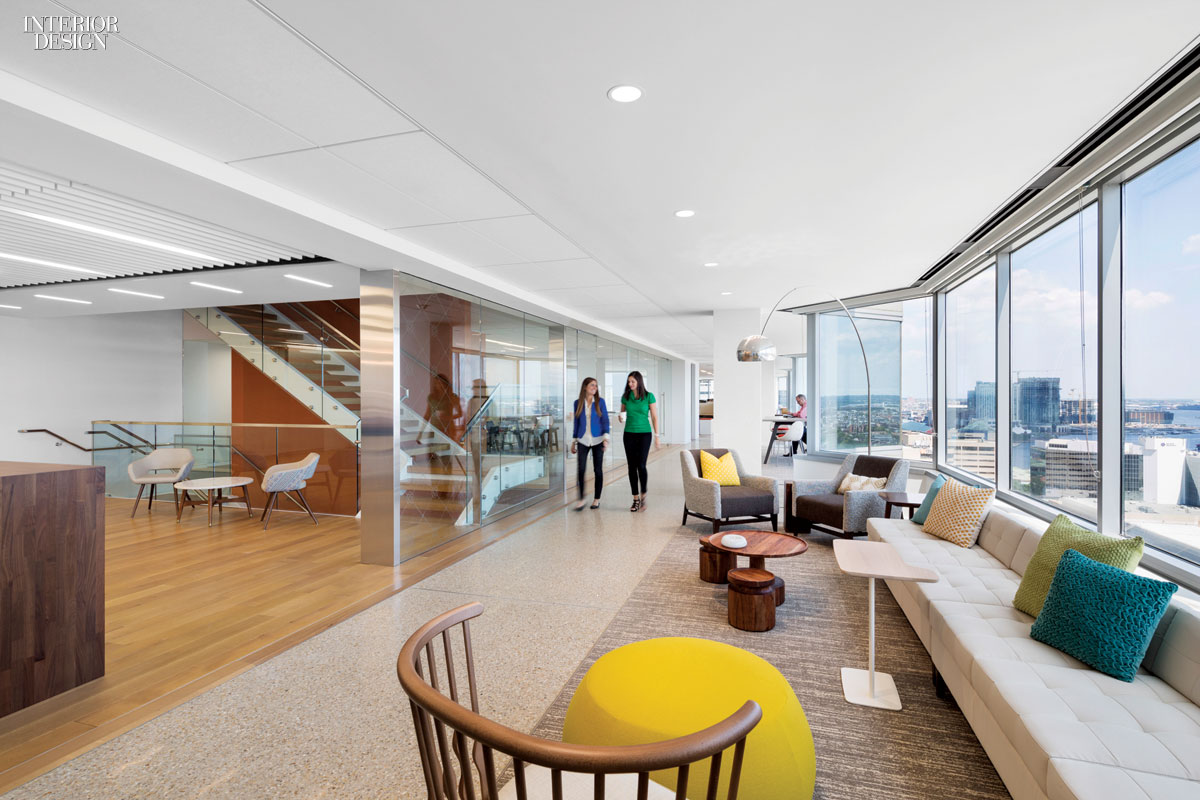 Pandora Jewelry, Baltimore, 2015. Photography by Michael Moran.
"Always look to the opposite when you challenge a solution. The different perspective can reveal new opportunities." —Chris Johnson, London 2007 awardee
"Listening to your clients is important. But more important is understanding them. Listening doesn't tell you what you have to do; it only tells you what you have to solve." —Gene Watanabe, Los Angeles 2003 awardee
"Focus more on pushing yourself to do the very best work you can than on getting the reward (promotion, money, etc.). If you are good enough, the rewards will follow." —Chris Banks, Baltimore 2000 awardee
Condé Nast headquarters, New York, 2015. Photography by Garrett Rowland.