Young Chinese Designers Make Western Debut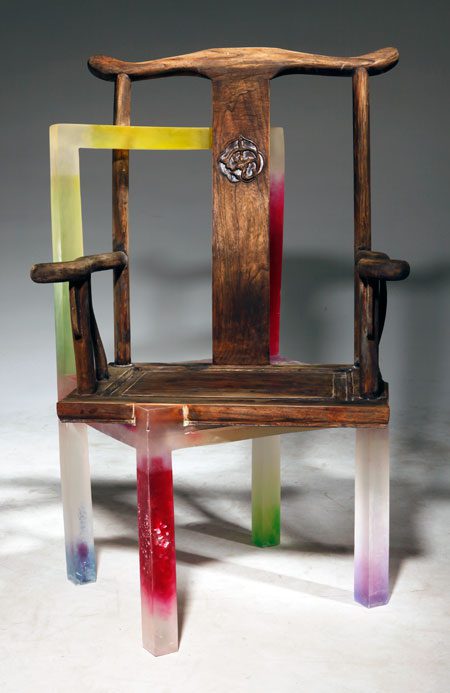 Gui Ying, "Freeze," wood and resin Chair.




(

Go here

for more on contemporary Chinese design.)

Traditional Chinese materials like lacquer and jade are given a contemporary twist in a special selling exhibition at

Sotheby's London

. It's the first exhibit in the West of works by young Chinese designers, whose creations range from furniture and ceramics to fashion and photography.
Curated by arts and crafts expert Janice Blackburn, "Unfolding Landscape," which closes this week, features works that weave together contemporary design and traditional Chinese themes and materials. On view, for example, is Gui Ying's sleek resin furniture embellished with original Qing Dynasty wood carvings, Gao Rongguo's moving photos of twins, and Kong Fan Fan's artful

My Recycling

, a dress constructed from CDs and their covers.



Gui Ying, "Freeze," wood and resin Chair.



Altogether, 20 young designers are represented, including seven furniture makers, six photographers, and one ceramicist. The designers are all recent graduates of the state-run

China Central Academy of Fine Arts

in Beijing, a leading Chinese art school.
"[D]esign in China is emerging and [it is] very important for them to be recognized as creative," says Blackburn. "Soon their designers will have the reputation of their contemporary artists." Blackburn also says the pieces differ from their Western counterparts. For instance, "Often the photographers are the subjects in their work or they set it in their childhood homes or schools" and that "[t]his is very different from what you would see in the West and very sensitive and moving."



Gui Ying, "Freeze," wood and resin Chair.



Professor Min Wang, Dean of the CAFA Design School and China's most important graphic designer—he created the logo for the Beijing Olympics in 2008—designed the show's exhibition space, logo and catalogue. He has said that one of the missions of the show is to "train large numbers of designers with creativity and an innovative spirit to help China to transform from 'Made in China' to 'Designed in China' and 'Created in China.'"
Prices for the works range from the Qin Xue and Hu Keren acrylic table for £7,850 ($12538.80) to photographs, priced from £750 ($1197.97) to £2,000 ($3194.60).