Annual NeoCon Workplace Roundtable Dives Deep Into Pressing Industry Issues
The second day of NeoCon heralded the return of the highly-anticipated NeoCon Workplace Roundtable, Interior Design's annual gathering of architects, designers, and manufacturers to discuss the most compelling issues facing the contract sector today. Twenty-six attendees assembled at the Sandow Innovation Lab to hear what their colleagues had to say about topics as diverse as how the design process has been shaken up by the emergence of co-working companies, what younger generations of designers bring to the workforce, and what the future of workplace design will look like.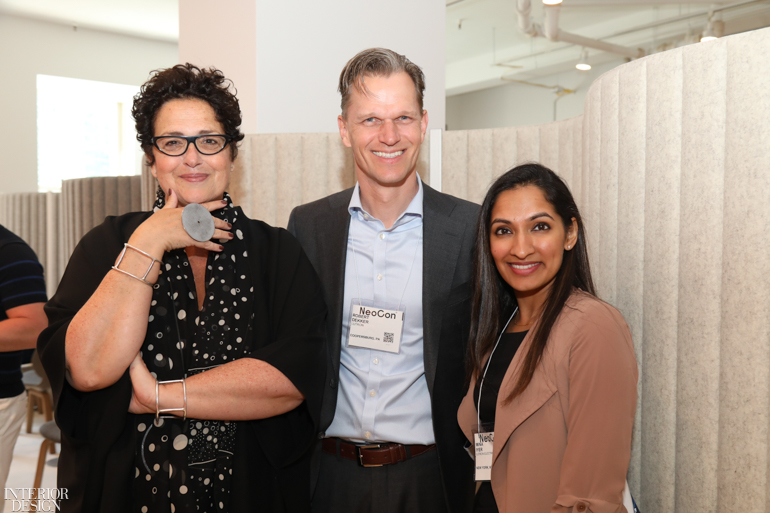 Interior Design's Editor in Chief Cindy Allen hosted the conversation and was joined by Jen Renzi, the magazine's executive editor. Allen kicked off the conversation with a question about how the workplace design process has changed in light of developments like digital technology, hyper-competitive bidding, and the interference of co-working companies in the design industry. "Just how do you keep up with all of this? There's so much going on and it's all happening so fast," Allen said.
The attendees agreed, each voicing their own solutions to the problem. Some said they bring clients into the design conversations much earlier and spend considerably more time investigating big questions of culture, purpose, and goals before even talking about aesthetics or specification. Others noted the emergence of more design + build firms to combat the lack of accountability and nickel-and-diming that can arise when working with external parties. Still others recommended bolstering a firm's branding and culture design departments to attract clients away from WeWork's restrictive policies on space branding.
"I think the main thing that needs to happen is that we should all abandon what I call the 'masterpiece model' of workplace design," said Dag Folger, principal at A+I. "We pour our blood, sweat, and tears into birthing these truly phenomenal projects that will be vacated in two to four years. Instead, I think we should adopt a more fluid 'renovation model.' Rather than prioritizing the genius of the project, this new model would refocus our attentions on fostering more attuned, more fluid relationships with our clients. We still deliver top quality, but we're more mindful of what they want and need as people."
Read more: Health & Wellness Roundtable Proposes Positive Change for Healthcare Spaces
When it came to discussing the newest generations entering the design workforce, there was a broad consistency of opinion that Gen Z and Millennial designers seem to suffer from "Google-fication" of the mind. That is to say, most designers in the room celebrated their young colleagues' strong work ethic, technological knowhow, and hutzpah in front of clients, but bemoaned the younger generations' apparent disinterest in the history of design, their aversion to social interaction and its deleterious effects on their ability to pitch to higher ups, and their over-reliance on technology to provide easy answers. Annie Lee, principal at ENV, suggested designers familiarize themselves with the mindset of gamers to better understand their young co-workers.
Finally, what does the future of workplace design look like? Well, that answer is actually obfuscated by clients' reluctance to let designers publish post-occupancy studies about their spaces. But, Allen said, access to these post-op studies would actually be a boon to the industry. Right now designers are integrating all sorts of new technologies and policies in their bespoke workplaces with the best information they have, but it can feel like they're going a bit out on a limb. With a resource bank of post-occupancy studies to draw from, designers could hone their workplace decisions with even greater accuracy.
After two intense and rich hours of conversation, the Workplace Roundtable, and Interior Design's NeoCon 2019 programming, came to a close. Come next year, who knows what kinds of issues designers will be contending with. What is for certain is that Interior Design will continue to act as an ardent partner to the industry in tackling these challenges.
> See Interior Design's complete coverage of NeoCon 2019
> View the 2019 HiP Awards winners and honorees
> Browse through all the can't-miss NeoCon 2019 events
> Watch the Day 1 Minute video
> Watch the Day 2 Minute video
A special thanks to our NeoCon 2019 Workplace Roundtable sponsors: