Cindy Allen Kicks off Giants of Design 2020 at the Parker Palm Springs
More than 120 designers, architects, and manufacturers convened in balmy Palm Springs, California for Interior Design's tenth annual Giants of Design. The three-day event, which traditionally celebrates the magazine's top 100 Giants, also featured Rising Giants this year—bringing together design rock stars at various stages in their careers.
Guests arrived from near and far at the Parker Palm Springs Sunday evening—the site for this year's event—just in time to grab a relaxing cocktail beneath the hotel's palm-studded landscape, followed by dinner. But the day started bright and early on Monday when Editor in Chief and Giants of Design host Cindy Allen officially kicked off the conference, thanking everyone for braving planes, trains, and automobiles to come together. "The relationships this time are going to be completely different because we'll never forget we were here together," said Allen. "It's Interior Design's mission and charter, and we describe it in one word: it's called 'service,'" she continued. "We live every day as a commitment to serve you, and I consider this event one of those things."
Allen offered every sponsor a heartfelt thank you for making the event possible, then noted the impressive roster of projects completed by many in attendance—the Giants worked on 70,000 projects in 2019. She also provided a glimpse at what's next in Interior Design including a sneak peek at LAUNCH, a powerful tool to help designers discover new products and immediately take action, which will appear in the April issue. Then Allen introduced the first speaker of the day, Michael Stern—curator, author, director/producer, and expert on Julius Shulman's work—with the promise that he knows "just about everything about mid-century Palm Springs."
"My goal is to make architecture more accessible to the layman—bring it out of the tower and into the streets," Stern said, explaining that he views celebrity homes as a portal to introduce modern architecture to a broader audience before launching into a more nuanced discussion about mid-century architecture. Up next, Allen called Yves Béhar, founder and chief designer of San Francisco-based Fuseproject, to the stage. "I wanted to share his view of the future with you," she said enthusiastically to the crowd.
"Design is most needed when the changes are most extreme, whether there is COVID-19 or not, changes have been pretty extreme in the last few years," offered Béhar, who touched on topics ranging from sustainability to designing for high density neighborhoods to reducing homelessness with 3D-printed housing.
A conversation between Allen and BassamFellows' cofounders, architect Craig Bassam and creative director Scott Fellows, followed before Grammy-award winning designer and founder of LAD Design Lawrence Azerrad closed out the morning session. "Their story is so amazing and I've recently become very addicted to looking at houses in Connecticut, which is where it all started for you guys, right?" Allen asked the BassamFellows' duo. Bassam and Fellows needed no further encouragement to dive into the origins of their fascination with modern architecture and the house that started it all in the late '90s in New Canaan.
Then Allen switched gears: "We went back, and now we're going into the future," she said introducing Azerrad, whose session about the design and lifestyle of the Concorde supersonic airliner began with an in-flight beverage service (albeit with everyone's feet firmly planted on the ground). "This is not exclusively about an aircraft; it's about the power of design to unify, inspire, and uplift," Azerrad noted as he delved into the far-reaching impact of the Concorde.
After lunch, attendees grabbed their bathing suits for a light-hearted pool party hosted by Allen, complete with colorful pool floats and lawn games. After a moment to dry off and change, guests made their way back under the palms for cocktails followed by an elegant dinner at the hotel's Gene Autry Lawn. Throughout the evening, guests were treated to cocktail napkins and custom cookies thanks to Material Bank.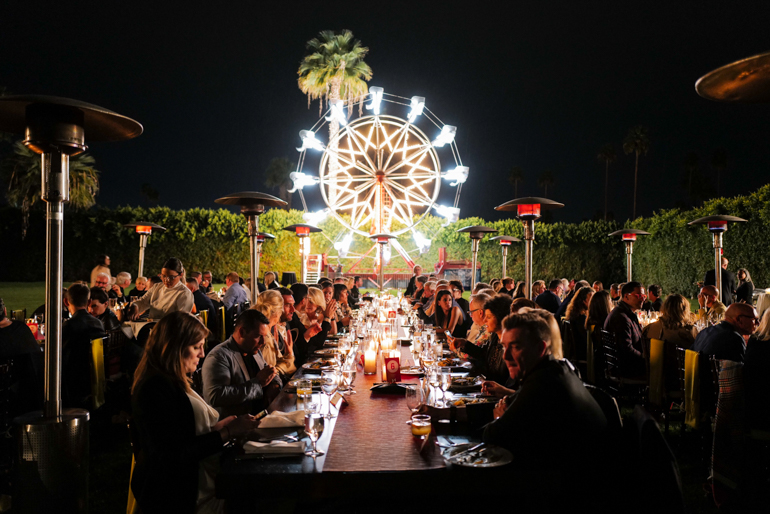 But the gourmet dishes and finishing touches were not the only stunners at the dinner. This year, an illuminated Ferris wheel, also sponsored by Material Bank, beckoned guests to take a ride, creating a playful yet classy atmosphere to close out the second day of Giants of Design.
Adding to the event's laid-back California vibes, on the third and final day of Giants of Design guests were challenged to build with a slightly less familiar material than most in the room were used to working with—LEGOS. Prompted with a series of questions by Heidi Brant, a certified LEGO Serious Play instructor and cofounder of the design practice Human Things, guests were asked to express their answers in an entirely visual form. The LEGO Serious Play methodology, based on research on how hands-on learning results prompt innovation, left attendees feeling more connected—and inspired—than ever as they shared their creations, and built towers together, before traveling back home.