Health and Wellness Roundtable Travels to NeoCon 2018
Late yesterday afternoon, Interior Design hosted its annual Health & Wellness Roundtable—a highlight of NeoCon day one—attended by industry thought leaders ranging from design practitioners and product manufacturers to end users. The conversation was moderated by Interior Design's Jen Renzi and Jess Cooper, chief commercial officer of the International Well Building Institute, which rolled out version 2.0 of its WELL standards last week. This was the second such event co-hosted by IWBI and the magazine on the topic of promoting wellness via the built environment—following last March's highly successful workplace-focused powwow.
The spirited two-hour conversation covered much terrain, from biophilic features and designing for mindfulness to the role Doritos play in a wellness-conducive space. Participants were excited to learn from each others' success stories and struggles, and to share ideas, innovations, and resources (among them the GSA's Sustainable Facilities Tool and Geisinger's Fresh Food Pharmacy to counter diabetes).
Attendees divulged some of the many challenges they face in creating spaces to encourage optimal health, including tight budgets and the need to demonstrate the ROI of various design elements. The right furniture, flooring, and surface treatments can make a huge difference, said ES Architecture's Molly Alspaugh, who described a recent hospital upgrade project and how patients now "vie to get admitted to the floors with the good product."
Many designers touched on the difficulty of having to address a broad constituency with divergent needs. This is especially true of facilities that treat multiple generations, from young children to geriatric patients, but also of spaces like senior living facilities, which must be designed to comfort the Boomer-and-older residents while also being palatable (and marketable) to the children of those clients: the Gen Xers whose job it is to "shop" for the best facility for loved ones, and who are often footing the bill. Amenities and concierge services are becoming a draw in these complexes, but so are novelties like an on-site Starbucks coffee shop—which attracts customers of all ages, thus fostering an intergenerational mix and drawing in members of the surrounding community.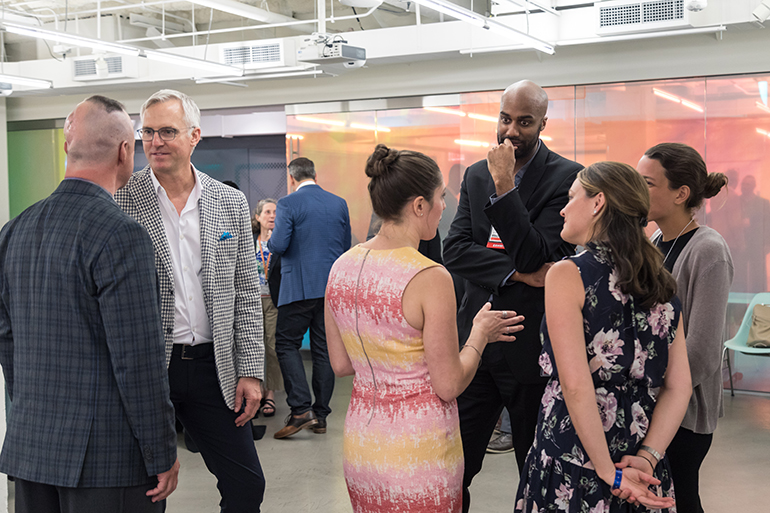 The impact of the built environment on a patient's emotional state is, all agreed, an area ripe for improvement—for the patient and the practitioner. "We need to do a better job of helping people with problems we can't even see," as one designer put it. Also vital and fruitful are the type of cross-sector conversations that inspire breakthrough innovations; why can't we think of a hospital waiting area, and all the activities that take place there, as we would an agile workspace, and conduct numerous engagements with end users to get granular information about how such a space should truly function? "We've all been living in silos for too long," says ASID CEO Randy Fiser. He added that "designers need to think of themselves as public health advocates," and, armed with evidence-based research, should feel empowered to do so.
While the talk touched on the importance of healthy furnishings, sensory-focused flooring, and low-VOC materials, the big takeaway was how much designers and manufacturers are thinking about the experience of healthcare spaces. Said Abigail Brueggeman of Northwestern Medical Healthcare, "As an end user, what makes me most excited is that we have spent most of the time talking about the bigger points of design, not just finishes. We need to communicate to our clients that design is about so much more than just aesthetics."
A special thanks to sponsors Benjamin Moore & Co., Construction Specialties, Kimball Health, Mannington, Mohawk Group, Shaw Contract, Sunbrella Contract, and Wieland Healthcare Furniture.