Interface Panel at Innovation Conference Discusses Sustainability in Design and Reversing Climate Change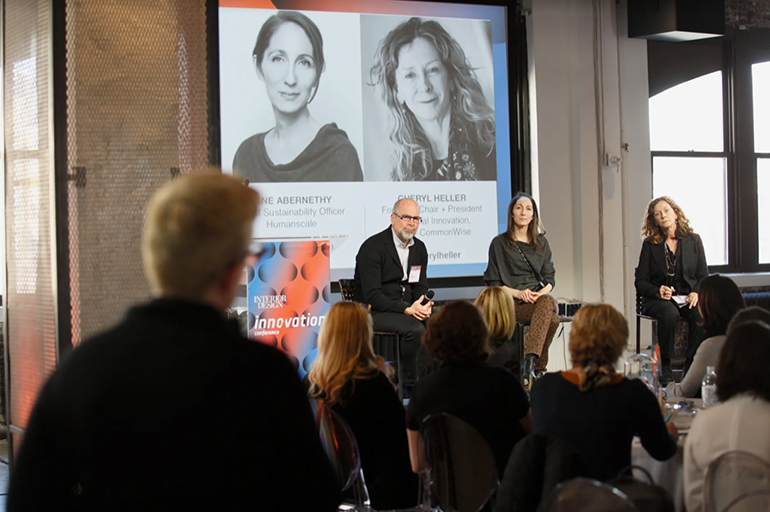 Kicking off the afternoon session of the Innovation Conference, three design-industry leaders in social innovation, product design, and workplace design came together on the Interface Panel to discuss climate change and the value of sustainable design. The panelists were Cheryl Heller, founding chair of the MFA program Design For Social Innovation at SVA and president of CommonWise; Jane Abernethy, chief sustainability officer at Humanscale; and Chip DeGrace, vice president of workplace application at Interface.
Moderated by Pamela McNally, Interior Design's chief revenue officer, the panel discussed topics ranging from sustainability practices in business to social design strategy. McNally opened by noting three major causes of climate change—the polar ice caps melting, deforestation, and the meat industry—and the warning that we may only have 12 years left before environmental collapse. She then asked the panel, "How do we future-proof our world to combat climate change?"
DeGrace replied that it's important to cut down embodied carbon in built spaces, which he plays an active role in enforcing at Interface. He explained how to measure the success of a built space from a sustainability standpoint. While certification can be helpful, it can also be expensive, and DeGrace mentioned a new online tool called EC3 that could help designers figure out which products will have a positive impact.
Abernethy said she believes certification can be useful for providing a framework, but it shouldn't be the end goal for designers. At Humanscale, she focuses on product lifecycle and net positive impact. Her team faces the challenge of sustainability by thinking outside of the box. For example, the Smart Ocean office chair incorporates recycled fishing net material. Beyond sourcing those materials, Abernethy stresses the importance of supplier relationships and supporting their communities.
Heller noted that her goal is to create conditions through social design that will encourage sustainability. "Social design is collaborative," she said. "It changes the people who participate in it so they have a sense of agency. You have a culture where people share a set of values and principles and they tend to act on that. What we try to do in social design is create groups of people who look at ways to innovate that don't have a high impact on the environment."
McNally turned the conversation over to the audience. Do clients ask for sustainable products? Do they push back if you suggest it? Some hands went up. Abernethy had another question: Do you know how to find a sustainable product? One or two hands in the audience went up. DeGrace and Abernethy agreed that lifecycle assessment can be helpful, but it's the designer's responsibility to push for change. "If you demand it, people will follow suit," Abernethy said.
DeGrace suggested offering those sustainable products whether or not the client asks for it. "It's a gift to clients," DeGrace says. "It has to do with better design. As designers, we have a huge impact. Let's get going."