Interior Design and RH Contract Host Roundtable About Reimagining the Workplace
On May 31, Interior Design hosted another intimate Roundtable event, this time with a specific focus on workplace furnishing trends. The cozy group of 15 was predominantly comprised of designers, one end-user, and a representative of RH Contract, who sponsored the event. Interior Design senior editor Mark McMenamin moderated. The conversation occurred at WeWork Bryant Park's sumptuous second-floor event space.
The Roundtable kicked off with a conversation about developing trends in workplace design, including the much-uttered phrase "ancillary is the new primary." In essence, this trend suggests that furnishings once considered of second-tier importance are now at the forefront of clients' minds as they reckon with the growing popularity of amenities and designers' minds as boundaries between residential/hospitality and workplace sectors blur. All industries embrace this new paradigm but to varying degrees depending on the type of workplace (e.g. a tech startup will have more couches and bar-height tables than a law office). Pieces that enable collaboration, accommodate technology, and encourage mobility are seeing a rise in specification.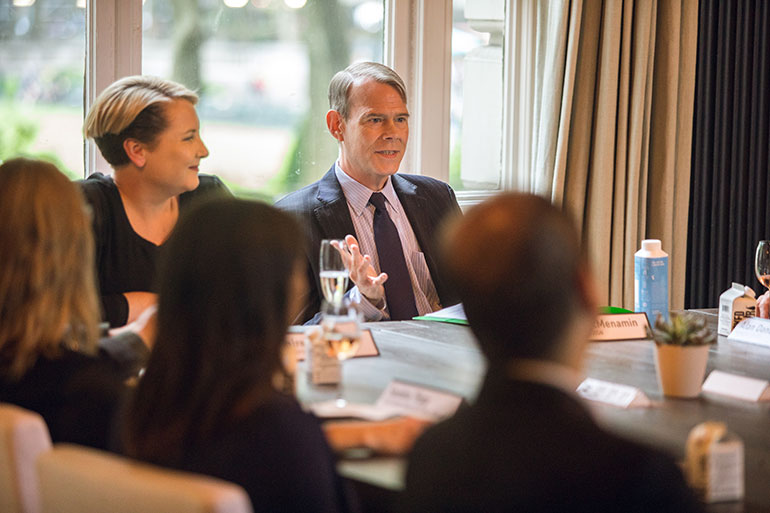 Designers also speculated why ancillary furnishings have increased in popularity, attributing it to a maturing Millennial workforce, who now desire more formal office settings. Additionally, the one-size-fits-all open-office plan is losing popularity as studies suggest that this arrangement yields a multitude of distractions that hamper productivity. Spaces with ancillary furniture can provide a much-needed balance of heads-down and collaborative working styles.
These pieces also point to another trend that the group discussed: the rise of design-savvy clientele. Roundtable participants were unanimous in their high appraisal of their clients' knowledge and enthusiasm of what constitutes good design. "In the past, designers were authors of a space," said Greg Guerra, design director at IA Interior Architects. "Now, we serve more as editors. Our clients understand what good design is, but it's our job to contextualize it for them."
This knowledge extends into branding design, too. Participants mentioned that they have seen a more fluid and laid-back approach to branding. Visual representation of a company, such as logos and company colors, are out. Instead, corporations and smaller companies are more interested in making cerebral and emotional connections to consumers. And a demonstrable, tasteful aesthetic plays into establishing those intangible connections. "When I started out, I had to fight for design," said Sandra Tripp, principal and managing director at Huntsman Architectural Group. "Now, we need to advocate for contextual space and refined design choices. It's a great place to be in."
The evening concluded with a festive cocktail reception featuring RH Contract's new ancillary product line, including such furnishings as the Curve Modular Sofa, Belleflower Side Table, Oviedo Leather Desk Chair, and the Fortuny Studio 63 Floor Lamp.